Home-made Pancake Recipe:
The pancake fever caught us while we were in the US. That of course, is everyone's story isn't it? While we were there, for most part of it we just bought the ready-to-make pancake mix without even knowing how easy it is to make homemade pancakes. Once I knew how to, I just wanted to bang myself on the head for not trying it early enough. So, if you are still buying ready-mixes, its time to dive into this super easy recipe and I promise you will never go back to the store to pick this up.
Ingredients:
Maida/All purpose flour – 2 cups (You can use whole wheat flour)
Baking powder – 2 ½ tsp
Sugar – 3 tbsp
Salt – ½ tsp
Egg – 1
Milk – 2 cups
Butter – 2 tbsp
NOTE:
You can also use whole wheat flour or a mix of maida and WW flour. Just increase the milk/water quantity as needed.
For Chocolate pancake variation, just add 2 tbl sp of cocoa powder along with the flour and sift it well.
Procedure:
Sift Maida and baking powder together using a sieve to ensure that it is evenly mixed.
In a large mixing bowl, beat one egg along with sugar and salt.
Add melted butter and milk and mix it well till all ingredients are combined well.
Take the maida and baking powder mixture and add it to the mixing bowl.
Beat the mixture gently using a whisk to form a thick batter. (Do not use an electric beater as it gives the batter a gluey consistency. The batter should be gently hand mixed and can have a few lumps which is fine)
On a skillet or non-stick tava, add a ladle full of batter and make round pancakes, 4-5 inches in circumference.
Flip it when you see small air bubbles popping up on the surface. Wait for a couple of minutes and take it off the skillet.
The pancakes must be golden brown in colour.
Continue to make pancakes using rest of the batter.
Stack the pancakes and serve it with a dollop of butter, syrup and a generous helping of fruit toppings
PIC COURTESY: AUTHOR'S OWN
For Syrup:
Ingredients:
Brown sugar – 1 cup (packed)
Regular sugar – 1 cup
Water – 1 cup
Maple/vanilla flavour – 1 tsp (You can substitute this with any flavour you prefer)
Procedure:
Combine all the above ingredients in a saucepan and bring it to boil. Reduce the flame and let it simmer till it starts thickening. Remove from the stove and allow it to cool. Serve it with pancakes.
Note: Make sure you do not over-heat till it reaches a sticky syrupy consistency as it might become too thick and starts solidifying into toffee while cooling.
For topping:
You can use apples, blue berries, strawberries, mangoes, bananas or any other seasonal fruit of your choice for toppings.
But our family favourite is apple. So here's how you prepare the apple topping…
Ingredients:
Apples (Cored, de-seeded and sliced) – 2
Powdered Cinnamon – 1 tsp
Brown sugar – 3 tbsp
Butter – 2 tsp
Add butter in a saucepan and add apples when the butter starts to sizzle.
Add powdered cinnamon and mix it gently in.
Sprinkle brown sugar on top and fold it in gently.
Switch off the stove immediately. Don't let the brown sugar melt otherwise it will start leaving water and leave a sugary puddle behind.
These apple cinnamon toppings are perfect with pancakes.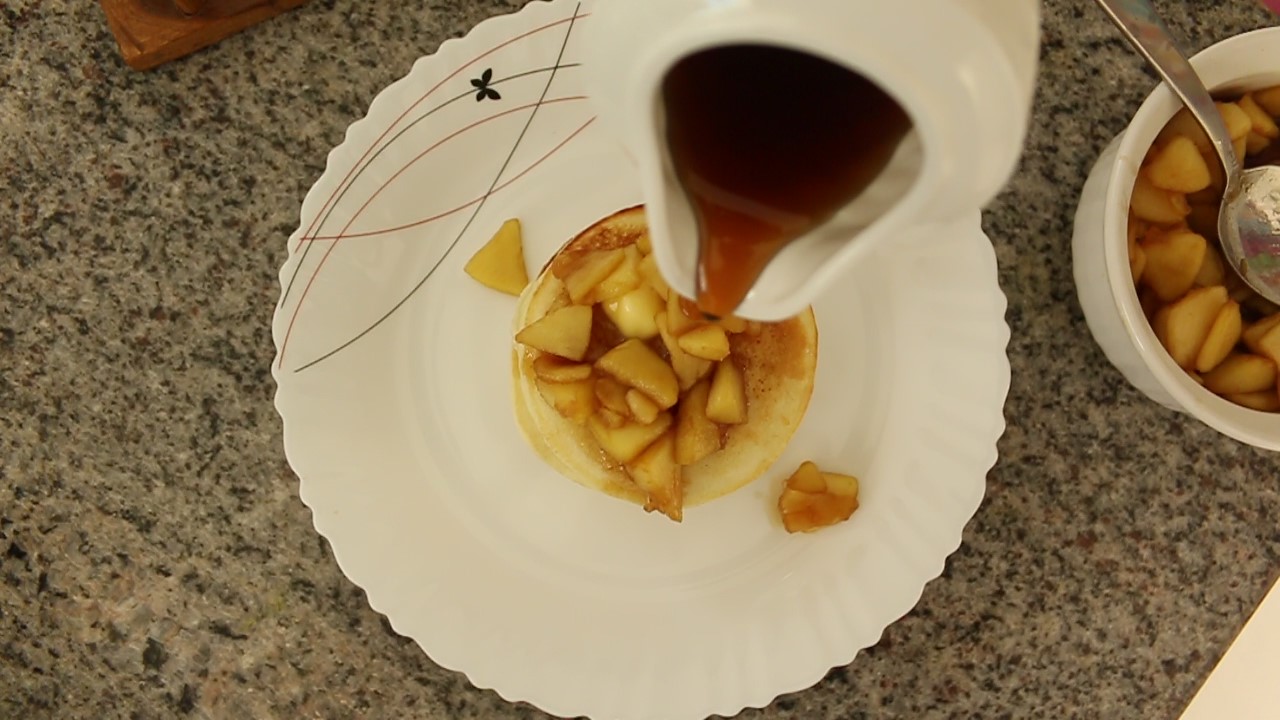 I already feel like having some now…
Happy eating guys!