The Handloom Enthusiast in Me
I was always a cotton lover, can't remember exactly since when but I can safely say since forever. I loved the feel of cotton and simply hated anything synthetic even as a child, just because it wasn't comfortable to wear. That's my earliest memory of the love story between me and the humble cotton. Very simple and basic… nothing too dramatic!
I did have a liking for dresses and almost always gravitated towards the cotton hand-block printed ones rather than the glittery and the flashy. I won't claim that I am a purist when it comes to handlooms simply because I still don't have in-depth knowledge about the textiles. My knowledge about textiles is very superficial and therefore I easily get duped by the 'look-alikes', but despite that I learn from my mistakes and earnestly try to purchase my handloom dress materials through authentic and trustworthy sources.
I can only say that my love for all things handloom just keeps intensifying for whatever reason and that's what makes me learn more about the various weaves that's part of the rich heritage that we have.
I am a mere patron of handlooms…
My prized collections
I own an exquisite Chikan Saree and a Chikankari angrakha kurta that my dear husband bought it for me during his visit to Lucknow.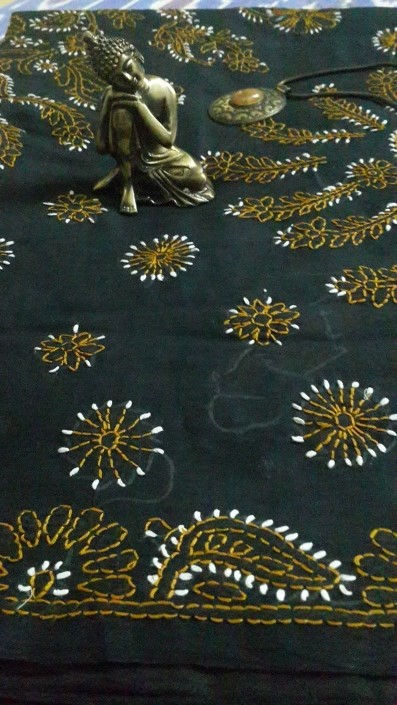 I bought a vibrant bandhani saree with an unusual colour combination (grey and bottle green to be precise) from Jaipur during a family trip.
An intricate Jamdani hand-embroidered Kashmiri stole is very dear to me, courtesy…again my loving husband from where else but The Paradise on Earth, Kashmir of course.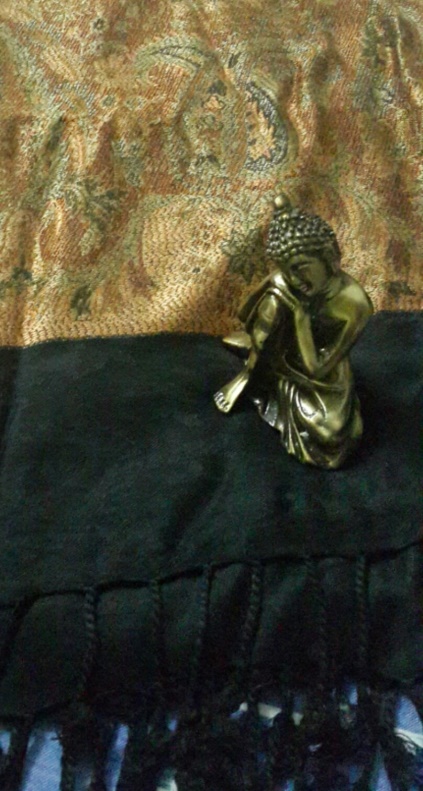 My kalamkari collections are growing in leaps and bounds, thanks to my entrepreneur friends who source it from all over India.
My Chanderi silk sarees with bagru prints are cynosure of all eyes when I wear it to work, courtesy my friend's boutique.
I have a few kurtis in ajrakh, a bandhani saree, ikkat salwar sets, bagru print palazzos and skirts, Kashmiri stoles, kalamkari dupattas and salwar sets. I guess you get the drift…
Accessorised with the right blouse and statement pieces (think oxidised silver jewellery or colourful beads), handlooms can look as chic and stylish as any western wear if not better.
While you are at it, go all ethnic and team it up with a pair of kolhapuri chappals or Rajasthani Jutti and you are good to go.
You can try online buys if you don't have any direct sources. I was very sceptical about purchasing online and my first reluctant online handloom purchase was a cotton Pochampally Ikat saree and Ikat bed spreads with matching pillow cases from https://gocoop.com and I am a happy customer to say the least.
Wasn't handloom an Indian way of life! We have such a rich heritage in terms of handicrafts and handlooms. Somewhere we lost track as a generation. But thanks to the new found love for handloom among youngsters, handloom is making a    come-back in big way into the corporate world and fashion scenes. It's a promising trend and I hope it catches on like wild fire.
Just to throw some light on the elusive fabric art and their unique vernacular names:
[Don't want to bore you with this little detail but feel the need to convey this to readers who are new to this. Please bear with me…I will keep it short!]
Ajrakh is a lovely fabric art from Kutch. Ajrakh – the word when literally translated means Indigo/ blue – the all-pervading dye in this craft.
Kalamkari is made from two distinct usages – Persian word kalam meaning pen and 'kari' refers to art made by hand, or craftsmanship. When translated literally, Kalamkari means drawings or creations made from pen. There are certain patterns or designs that are typical to the craft of Kalamkari –The motifs – many of which are like story-boards, depicting scenes from the epics of Mahabharata, Bhagvad Gita and Ramayana – indicate the history of this fabric craft.
Seriously…which other fabric can claim to tell a tale like kalamkari…
I guess I have said enough in this post but if I could say just one more thing, then it would be;
Wear More Handloom…
For One- Indian handlooms are breathtakingly beautiful;
Two- we'll be helping our weavers;
Three- in a small way we could be instrumental in saving a dying craft.
Each handloom piece you wear is a result of a unique craftsmanship, handwork and hard work of an Indian weaver. It's not bulk produced by some machine in a powerloom.
Here's wishing you a wardrobe full of unique handcrafted treasures!
A Day In Chennai During Cyclone Vardah…
I don't understand what's up with Chennai and Decembers?
I had mentioned December (the Tamil month of Margazhi, to be an auspicious month for South Indian…read my post https://kalpavrikshafarm.wordpress.com/2017/09/24/the-month-of-margazhi/)
But since the past two years Decembers have become synonymous with destructive natural forces here…
After the terrible floods of 2015 which almost drowned the city of Chennai, we had Cyclone Vardah in 2016 to deal with. This cyclone requires a special mention and you will see why. I am writing this post from the point of view of a person who was well aware of the impending destructive force and had taken precautions in terms of stocking essentials and staying indoors. You can only be as prepared as this if you are already stationed in a place which doesn't require evacuation. We stay in a huge apartment complex which had taken measures to have power back-up and securities alerted for impact.
December 12th 2016 will be etched in my memory for a long time. As a precautionary measure, the Government had declared a holiday for schools and colleges in Chennai. Even private organisations allowed options to work from home. That morning started out as a calm, dry day though the approaching attack of cyclone vardah loomed large. Just like us, most of the Chennai-ites would have sat prepared watching the cyclone in anticipation, updating each other regarding the latest news from IMD – Indian Meteorological Department. All the precautions in the world would not prepare us for what we were about to witness.
A little update on the intensity of the cyclone;
The storm has been classified as Category 1 cyclone on the Saffir-Simpson Hurricane Wind Scale, a gauge of severity of cyclone based on the wind speed. Category 1 cyclone are characterised by wind speeds around 110 km per hour, and result in significant property damage and power cuts, according to the US-based National Hurricane Centre.
On its way to India's south-eastern coast, Vardah passed the Indian island chain of the Andaman and Nicobar Islands, bringing heavy rainfall and packing winds between 110 and 120 km per hour. It was expected that the landfall would be near the Chennai coastal region.
Chennai had begun to experience the wrath of Cyclone Vardah, a tropic storm that originated in the Bay of Bengal on Dec 12 by around 12 noon. I had witnessed cyclones before; I remember the Thaane cyclone, the time when my sister was in the hospital for her delivery and what a stressful time it was for my whole family. But despite that I have to say, I had never witnessed such a catastrophic cyclone before in my life.
We thought we were quite safe, presuming we stayed in the 11th floor of an apartment, built by a reputed builder known for its architectural prowess and quality of construction, was enough to see us through this as it had done a year before during the worst Chennai floods. We were worried about all the Chennai residents and sincerely prayed for their safety.
Everything seemed fine but then, slowly the skies turned cloudy, darkening with gloom. Scattered rain and wind started gradually picking up speed. The cyclonic wind that started blowing was violent enough to uproot huge trees, lampposts and even break walls.
News about the huge French doors and windows shattering in our own apartment complex and also the injury caused due to it started arriving. Messages about cars being upturned and rain water entering into even high- rise apartments started pouring in. People felt tremors and the building shook, causing panic among the residents. But where could we go? We were hostages in our own houses; there was no escape; no safe haven while facing the wrath of nature's fury!!! What would you do? What would anyone do?
By 1:30 pm, the wind was violently shaking up the whole city. We wondered if people like us, who are staying indoors safely, are "not quite safe", then imagine people who are stranded on roads, who live in thatched roof houses; I couldn't imagine their plight.
By 2:30 pm, we started noticing one of the panels of our French door shaking; on closer inspection saw that the side panel had got slightly detached from the main panel and there was a small gap now. There was nothing much we could do; we opted to leave them slightly open to reduce the impact of the winds. Imagine leaving your balcony doors open during a cyclone of this impact; but we had to take a call…it was either that or wait for the glass door to fall apart….
The wind which was moving in one direction now was swirling around violently, something I had never witnessed live before. It was a scary sight… And the sounds… my god, the horrifying whooshing and howling of the wind blowing at an unimaginable speed was just plain terrifying. More than the rains, we were worried about the winds.
By 3:00pm, we noticed that the main door of our house had started shaking fiercely due to the wind which was blowing across the corridor outside. The door seemed like it was being pushed by a violent force from outside. On one side our French door was threatening to give-way and on the other side our main door… If these doors fell due to the force of the wind… I couldn't imagine the destruction we would be facing; I just couldn't bring myself to think what could happen if?
Panic gripped us…this was the moment when the imminent danger became too real…too unnerving. We had to take some quick decisions. We decided to move one portion of our sectional sofa closer to the main door and one closer to the French doors to reduce the impact if the doors fell.
We moved out all the knick-knacks from the living room to reduce injury resulting from flying objects if the doors gave way. I started panicking and packed an emergency kit if we had to evacuate. My hands were shaking as I did that…. meanwhile my neighbour somehow got some phone signal and called me to inform that her house was flooded and that she could feel tremors… Giving her some moral support and asking her to come over to my place is the only thing I could say, without even knowing how safe my place was anymore.
Another call came in from my sister-in-law who resides in the same complex as mine but in the 14th floor stating that they had decided to move down to the first floor, as a precautionary measure; A colleague's message arrived that her glass doors shattered and water was pouring into her apartment, and that she had slipped and fallen and had badly hurt herself on the head and needed emergency care…
We were in a situation where we couldn't even open our main doors to go out if needed to, leave alone help or rescue anyone…. By now we knew that this was no ordinary cyclone. We were totally helpless….
Nothing else could be done. Nothing at all. Knowing that we couldn't do anything was so horrifying. We decided to move into one of the rooms which we felt was the safest place in the whole house to brace for any impact. Amidst the violently howling sounds of the wind all we could do was pray!!! Prayers and more prayers; yes, that was our only respite… I silently chanted "Skanda shashti kavasam"…
In the midst of all this, I was reminded that it was the auspicious day of "kaarthigai deepam". In Tamilnadu, homes are lit with diyas and poojas are performed for Lord Kaartikeya.
4:30 pm and still no signs of the cyclone weakening but somehow our doors just stood the test of time… er… winds, by God's grace, I would say, nothing else. By now, no cell phone signal, no charge in the mobiles, landlines down…we were completely marooned from any communication.
We just stayed put, sitting together, and at around 6:00pm, in the pitch darkness, we suddenly realized that something was missing… the sound of the howling wind…! It was gone, there was silence… We jumped up to peek through our balcony and noticed that it was calm outside. The violent wind had disappeared without a trace. There was a report saying this is a period of lull before the cyclone returns with full force but thankfully that didn't happen and honest to God we wouldn't have been able to sustain the impact if it had.
Having said this, I am fully aware how fortunate we were and my heart goes out to all those who suffered during this tough time. I just realized that no matter how prepared we think we are, it is nothing in front of nature's fury.
A day that could have otherwise seen Chennai lit up brightly with diyas and people joyously celebrating the auspicious occasion was now a site of destruction and grief as cyclone Vardah ripped through the city. It presented a scene of devastation with thousands of uprooted trees, broken billboards, snapped telephone and power cables besides low-lying areas reported water-logging, not to mention physical suffering endured by many.
Seriously, what's with Chennai and Decembers???
The month of Margazhi
Decembers in Chennai are synonymous with music festivals and Kutcheris, and spirituality at its peak with the onset of the auspicious month of Margazhi; As a teenager I had a love-hate relationship with this month as it meant that my mom would wake me up at the crack of dawn, while it was still dark and make me help her with the elaborate kolam in the front yard.
I say love-hate because though I hated getting up at that unearthly hour in the cold winter mornings (oh please don't roll your eyes…I know 23 degree Celsius is not cold by any measure but that's the coldest it gets down south); so there, I am justified in saying cold winter mornings….Anyway, as I was saying though I hated it, somewhere between getting up grumbling and dipping my hand into the bowl of white glistening powder – kola maavu, there was a satisfied and proud me, looking at my accomplishment of tackling the intricately woven web of mysterious proportions simply called pulli kolam (designs using dots)
(Photo credit: Internet)
While it was still dark, once outside you could see your neighbours hard at work with single minded concentration on the task at hand and going at it like crazy. With devotional songs blaring from households, it's a whole different world out there at that hour, which the unfortunates sleeping soundly and warmly inside their homes would never know.
My maamis (aunts) had lots of interesting tales about this Margazhi kolam craze, which they shared quite animatedly. One of my maami and her sibling clan had this on-going battle with their neighbours on who could make the most complicated kolams, that would reach epic proportions. Grand plots were devised to out-smart each other in coming up with elaborate designs and ensuring no one could guess how to start or end the damn kolam.
While reminiscing about this lovely month, I can't help but be reminded of the dreadful floods a couple of year's back followed by numerous cyclones last year, out of which Vardah cyclone being the most threatening of all, wreaked havoc in the peaceful city of Chennai. The month of December is slowly starting to look ominous to many which is quite opposite to the festive, colourful and jubilant look it bore earlier.
But Chennai is known for its resilience and as proven earlier it always rised above all odds and restored everything it is known for, bringing back all the fond memories and festivities with it…