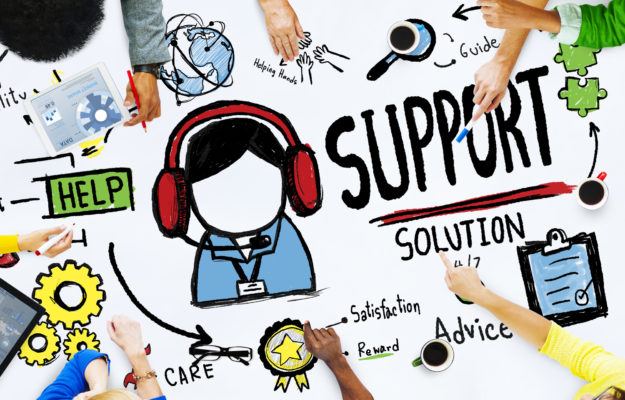 My USP is "Learner Support".
You will get minimum 1 MONTH guidance, through a WhatsApp group, when you put learning into practice.
Effectiveness of my support can be seen from my participant testimonials.
Online Organic Gardening Class: Workshop for Beginners
 CUSTOMER SPEAK
 "RADHIKA MIMANI  workshop participant
"There are endless workshops and tutorials for everything under the sun..However, I can vouch that I made a wise choice in going for Kalpana's beginner's workshop. It's kept simple yet comprehensive and most importantly doesn't overwhelm a novice. And what sets it apart is the month long support group…. Doing things brings in a host of doubts, queries and challenges. But knowing that she is still readily available along with fellow gardeners to help you on the way is greatly comforting and encouraging"
 "SHUCHI GUPTA workshop participant
"Hi..this was my 2nd workshop with kalpana. I think that says it all. She is an excellent mentor who teaches with so much patience and perseverance and explains it really well. Her love for gardening and knowledge on it is simply amazing. I am a total newbie in gardening, but have started enjoying it, thanks to her."
Are you interested in starting your own organic vegetable garden at home?
Are you one of those who always wanted to start your garden but had more questions than answers? Felt Online Content is overwhelming and confusing? Cannot get personalized guidance?
I conduct online classes on Organic Vegetable Gardening for beginners.

Through this online gardening workshop, I will share my learning and experiences as videos and reference material to get you STARTED and SUSTAIN. I will provide mentoring and guidance during the workshop and post workshop for 1 month.
Attend this online workshop for 1 HOUR each day for 5 days, to get started. I assure you that your time and effort spent will be worthwhile. You need to give yourself a chance.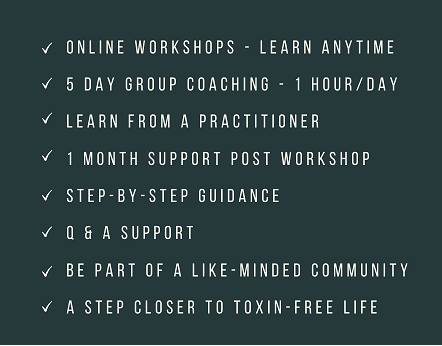 You will get LIFE TIME ACCESS to entire Workshop Content, including ALL the VIDEOs and PDFs.
Not only this, you will also get ONE MONTH of POST WORKSHOP SUPPORT
Still not convinced ? READ further to know more details..
Gardening is a huge ocean and there are resources galore, that it might get over-whelming for any beginner. This workshop will take you through the basics of organic vegetable gardening through easy to understand steps that will help you get started. If you have always been wondering about starting a garden then this is your chance and today is the day to realize that dream of yours!
In this workshop, you will learn;
What/Where/Why/How of Organic Gardening
Soil preparation
Making Your Own Potting mix
Types of Containers
Different Types of Seeds for your garden
Different Sowing/Planting Methods
Right Watering techniques
Manuring – Organic Fertilizer for plants
Preparation of Organic Growth Promoters
Common Pests & Plant diseases
Natural Pest Control Methods
Preparation of Natural Pest Repellents
Succession Planting Tips
"What to start with?" – Beginners guideline
Plant Care tips to sustain your garden
BONUS CONTENTS:
I realized, it's not enough to just teach you how to start an organic vegetable garden, because I know your pain-points too well! I wanted to curate a course that's comprehensive and one-stop-solution for all your Gardening Needs. I know I had to struggle a lot and run pillar-to-post to get all the information I needed to start mine. And, it doesn't have to be that way for you. It's not just about starting a garden but to sustain it for long-term. So, I am including some Extremely valuable ADDITIONAL RESOURCES too! Are you Excited!!!
HOME COMPOSTING – (VIDEO + DETAILED INSTRUCTIONS) – A fool-proof guide to prepare compost for plants!

SOWING CALENDAR

– PDF

COMPANION PLANTING CHART

-PDF
NUTRITION DEFICIENCY CHART

– PDF
What are you waiting for! REGISTER NOW and get ready to be enjoy the bounty of organic vegetables and reap the rewards of your efforts with heartwarming visuals, delicious vegetables and colorful blooms!
ALL YOU NEED IS ONE HOUR A DAY (AT YOUR CONVENIENCE) FOR JUST 5 DAYS.
You can learn the Basics of Organic Vegetable Gardening from the comfort of your home!!! This class is purely for beginners. It will be taught by me, Kalpana Manivannan, a practicing organic farmer.
If you have further queries, you can send me a WhatsApp message at 9789867598 HERE or send a private message through FACEBOOK or INSTAGRAM
This is a 5 day Workshop conducted through WhatsApp especially designed keeping you in mind. Though I would prefer a hands-on gardening course, not everyone has the luxury of attending such sessions on specific days and time-periods. This I feel somehow defeats the purpose of spreading the knowledge across to the seekers. This is a humble attempt at accommodating anyone who wants to learn irrespective of where they live and what their schedules are.
Now, all that's needed is the willingness, to make that elusive dream of growing your own veggies into a reality. And trust me, this workshop will be as good as or probably better than any hands-on workshop and the best part is, you don't have to leave your home or take a day off from your office work.
This is a PAID Workshop.
Venue : WHATSAPP
You will get LIFE TIME ACCESS to entire Workshop Content, including ALL the VIDEOs and PDFs.
Not only this, you will also get ONE MONTH of POST WORKSHOP SUPPORT
 In case you need more details before you can decide, fill these details so that we can connect with you.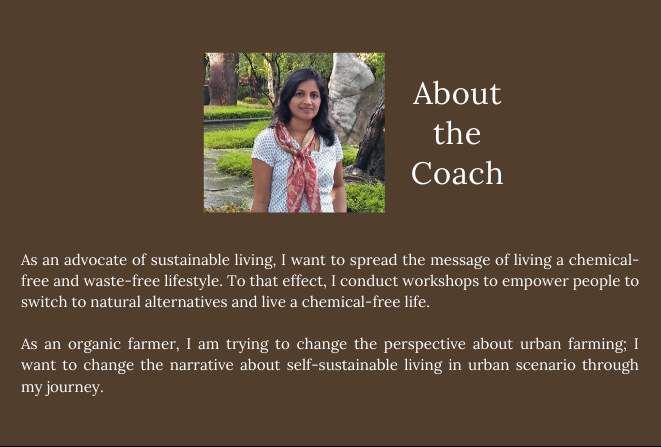 Few more things that may be of interest to you…
DIY Chemical Free Cleaners Workshop(CLICK HERE OR ON IMAGE)
Learn to make natural cleaners at home, to give your family a healthy home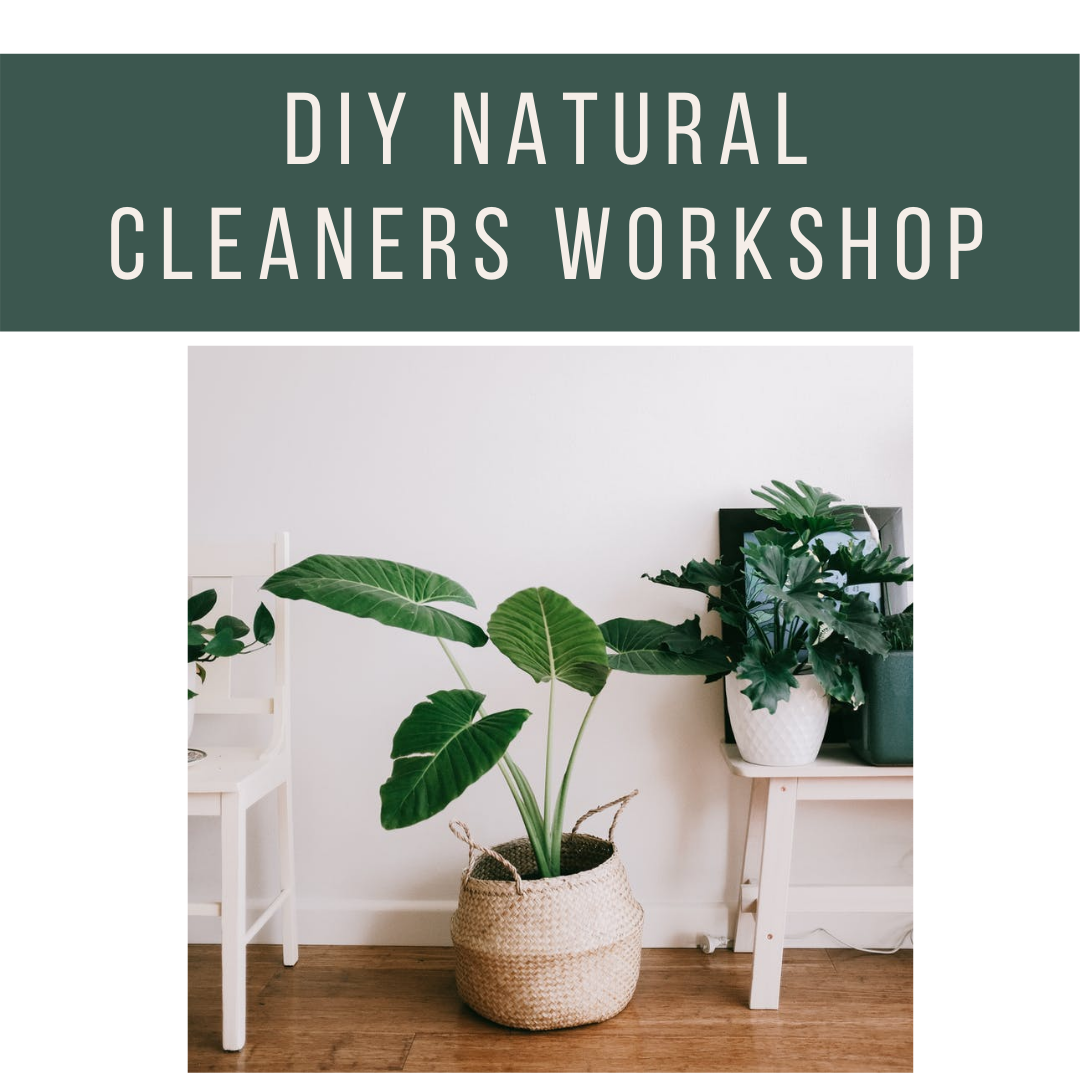 "cook from scratch" – E-Course (CLICK HERE OR ON IMAGE)
your guide to eliminate some staple everyday processed food from your grocery list. 
Home made Soaps – Pre-Order Online (CLICK HERE OR ON IMAGE)
Handmade Natural Chemical Free Soaps using coconut oil processed from our own farm grown coconuts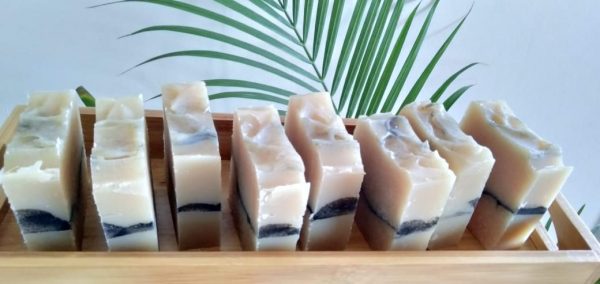 30 Day Mentoring Program (CLICK HERE OR ON IMAGE)
"30 Day Mentorship Program" towards a self-sufficient lifestyle, where you will be guided in your journey