HOME MADE SOAPS
NEW ADDITIONS : Baby Soaps | Fragrance-Free | Pure & Gentle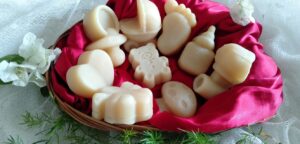 You can pre-order your soaps here. Select the desired quantity in the respective variant and make payment using the payment link.
PRICE PER SOAP – Rs 250/- (including shipping charges)
Net Weight – 125 gms
Please note
1. Minimum Order Quantity is 5
2. Shipment will start only after 30 days from payment
3. Only fully paid orders will be considered 
4. Delivery ONLY in INDIA, where Courier services are available.
5. Payment link is at the bottom of the page
Our USP and Product Description 
Fill the form below to PRE-ORDER your soaps
(SUBMIT button will be enabled when total order quantity is 5 or more)
YOU NEED TO COMPLETE THE PAYMENT BY CLICKING BELOW, FOR YOUR ORDER TO BE PROCESSED
You can also pay through Google Pay GPAY by clicking HERE
CUSTOMER TESTIMONIAL
Maria deRosario
"Hi Kalpana,
Your soaps arrived this weekend and the moment I opened the box, the smell of sandalwood wafed through my home and I could literally feel the love and care that has gone into the entire process. Now I have to tell you that usually, after a shower, I have to slather moisturiser to prevent my skin from drying. But after using your soap, none at all! and I just love the smell of freshness. My son loves the sandalwood fragrance and has loudly proclaimed that we shall only use this soap in future. I have just made another order and I know I'll be back for more!!"