I was always a cotton lover, can't remember exactly since when but I can safely say since forever. I loved the feel of cotton and simply hated anything synthetic even as a child, just because it wasn't comfortable to wear. That's my earliest memory of the love story between me and the humble cotton. Very simple and basic… nothing too dramatic!
I did have a liking for dresses and almost always gravitated towards the cotton hand-block printed ones rather than the glittery and the flashy. I won't claim that I am a purist when it comes to handlooms simply because I still don't have in-depth knowledge about the textiles. My knowledge about textiles is very superficial and therefore I easily get duped by the 'look-alikes', but despite that I learn from my mistakes and earnestly try to purchase my handloom dress materials through authentic and trustworthy sources.
I can only say that my love for all things handloom just keeps intensifying for whatever reason and that's what makes me learn more about the various weaves that's part of the rich heritage that we have.
I am a mere patron of handlooms…
My prized collections
I own an exquisite Chikan Saree and a Chikankari angrakha kurta that my dear husband bought it for me during his visit to Lucknow.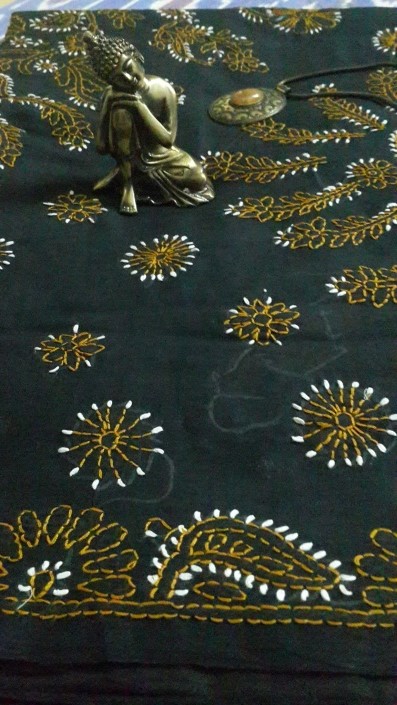 I bought a vibrant bandhani saree with an unusual colour combination (grey and bottle green to be precise) from Jaipur during a family trip.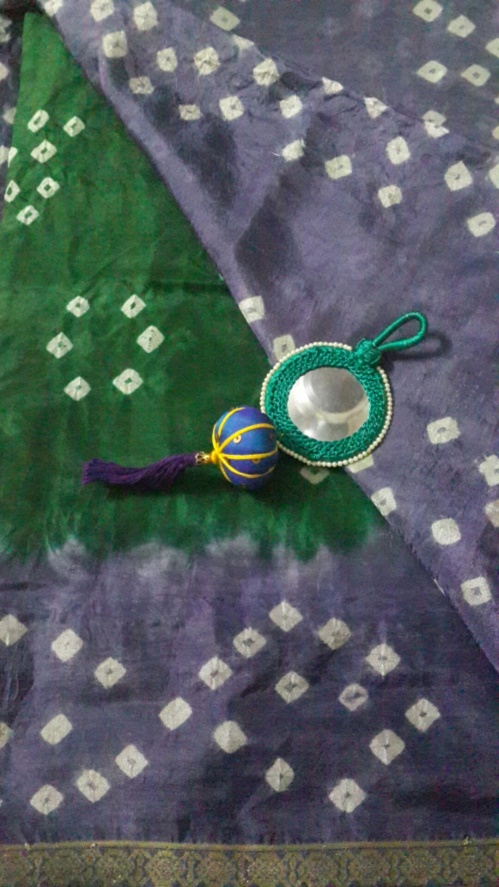 An intricate Jamdani hand-embroidered Kashmiri stole is very dear to me, courtesy…again my loving husband from where else but The Paradise on Earth, Kashmir of course.
My kalamkari collections are growing in leaps and bounds, thanks to my entrepreneur friends who source it from all over India.
My Chanderi silk sarees with bagru prints are cynosure of all eyes when I wear it to work, courtesy my friend's boutique.
I have a few kurtis in ajrakh, a bandhani saree, ikkat salwar sets, bagru print palazzos and skirts, Kashmiri stoles, kalamkari dupattas and salwar sets. I guess you get the drift…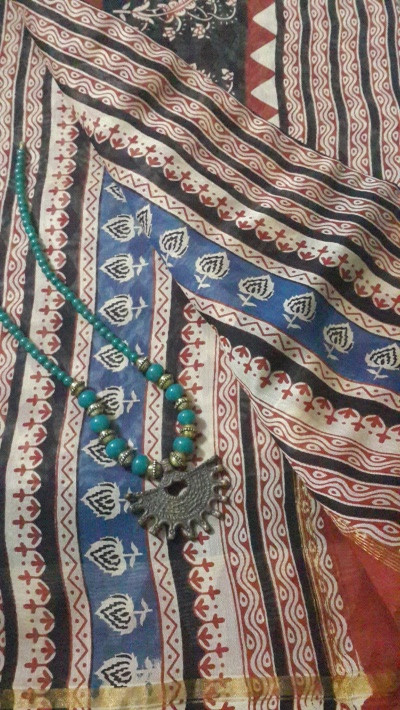 Accessorised with the right blouse and statement pieces (think oxidised silver jewellery or colourful beads), handlooms can look as chic and stylish as any western wear if not better.
While you are at it, go all ethnic and team it up with a pair of kolhapuri chappals or Rajasthani Jutti and you are good to go.
You can try online buys if you don't have any direct sources. I was very sceptical about purchasing online and my first reluctant online handloom purchase was a cotton Pochampally Ikat saree and Ikat bed spreads with matching pillow cases from https://gocoop.com and I am a happy customer to say the least.
Wasn't handloom an Indian way of life! We have such a rich heritage in terms of handicrafts and handlooms. Somewhere we lost track as a generation. But thanks to the new found love for handloom among youngsters, handloom is making a    come-back in big way into the corporate world and fashion scenes. It's a promising trend and I hope it catches on like wild fire.
Just to throw some light on the elusive fabric art and their unique vernacular names:
[Don't want to bore you with this little detail but feel the need to convey this to readers who are new to this. Please bear with me…I will keep it short!]
Ajrakh is a lovely fabric art from Kutch. Ajrakh – the word when literally translated means Indigo/ blue – the all-pervading dye in this craft.
Kalamkari is made from two distinct usages – Persian word kalam meaning pen and 'kari' refers to art made by hand, or craftsmanship. When translated literally, Kalamkari means drawings or creations made from pen. There are certain patterns or designs that are typical to the craft of Kalamkari –The motifs – many of which are like story-boards, depicting scenes from the epics of Mahabharata, Bhagvad Gita and Ramayana – indicate the history of this fabric craft.
Seriously…which other fabric can claim to tell a tale like kalamkari…
I guess I have said enough in this post but if I could say just one more thing, then it would be;
Wear More Handloom…
For One- Indian handlooms are breathtakingly beautiful;
Two- we'll be helping our weavers;
Three- in a small way we could be instrumental in saving a dying craft.
Each handloom piece you wear is a result of a unique craftsmanship, handwork and hard work of an Indian weaver. It's not bulk produced by some machine in a powerloom.
So, Happy Shopping!!! Err…Handloom Shopping…