Off to the Hills
As we left Chennai behind and drove towards our weekend retreat, a sense of relaxation started to set in.  Now let's just rewind a couple of hours. Of course, all the things that can go wrong on the D Day took its course. We had packed all the possible things we would need on our trip and planned to hit the road by six thirty to escape the morning city traffic and save on our travel time. But of course, as always, firstly, the alarm doesn't go off, so we had to hurriedly jump out of bed and rush out to get ready. Secondly,  my daughter refused to wake up and decided that the world wouldn't come to an end if we start an hour later. Kids! Now what do they know,  except to complain later when we're stuck in traffic. So finally, when reasoning failed and threatening began,  she got the point. Then of course my son, who couldn't go anywhere without his cricket kit (and I mean stumps and all) , his transformer toy and all the  bare necessities a ten year old boy can't live without, had to be packed . Finally and I  mean Finally, after ticking off the check list for last minute things to be done before leaving the house, we managed a group hug (this is a tradition we love to follow just to bring everyone into the holiday mood,  thanks to my dearest hubby) we are in our car cheering in  chorus – yelagiri here we come.
The three and a half hour drive to the nearest hilly terrain, yelagiri,  doesn't seem to be too tedious,  does it.  Not if you have two kids simply allergic to the idea of  travel. The mere mention of it can spell disaster in our household.  So, right from the minute we left our apartment premises,  the infamous phrase "are we there yet"  was the only mantra we heard for the next 2 hours. Thank god for the music we took along that saved the day. We had downloaded the kids favourite songs just the day before. What a life saver….(sigh).
Another minor abberation to our plan was that the online purchases (which usually don't arrive without much following up), miraculously began to arrive one after the other at our house right about the time we crossed the city limits. But nothing could stop us from enjoying our holiday plans, we decided, and yanked the music a little louder to drown all the mundane thoughts in our minds.
Soon the scenery around us started changing.  From the hustle and bustle of the city life, we were suddenly in the midst of serenity, surrounded by hills and grassy plains with very few signs of civilisation. The surety that we were in the lap of nature came when we lost cell phone signals and network.. (wink wink).  We could feel the daily routine of hurried monotony melting away and giving way to a relaxed and laid back mind set.
As we drove past the hair pin bends, we could feel the sweltering heat of chennai taking a dip as the fresh mountain breeze started to blow on our faces.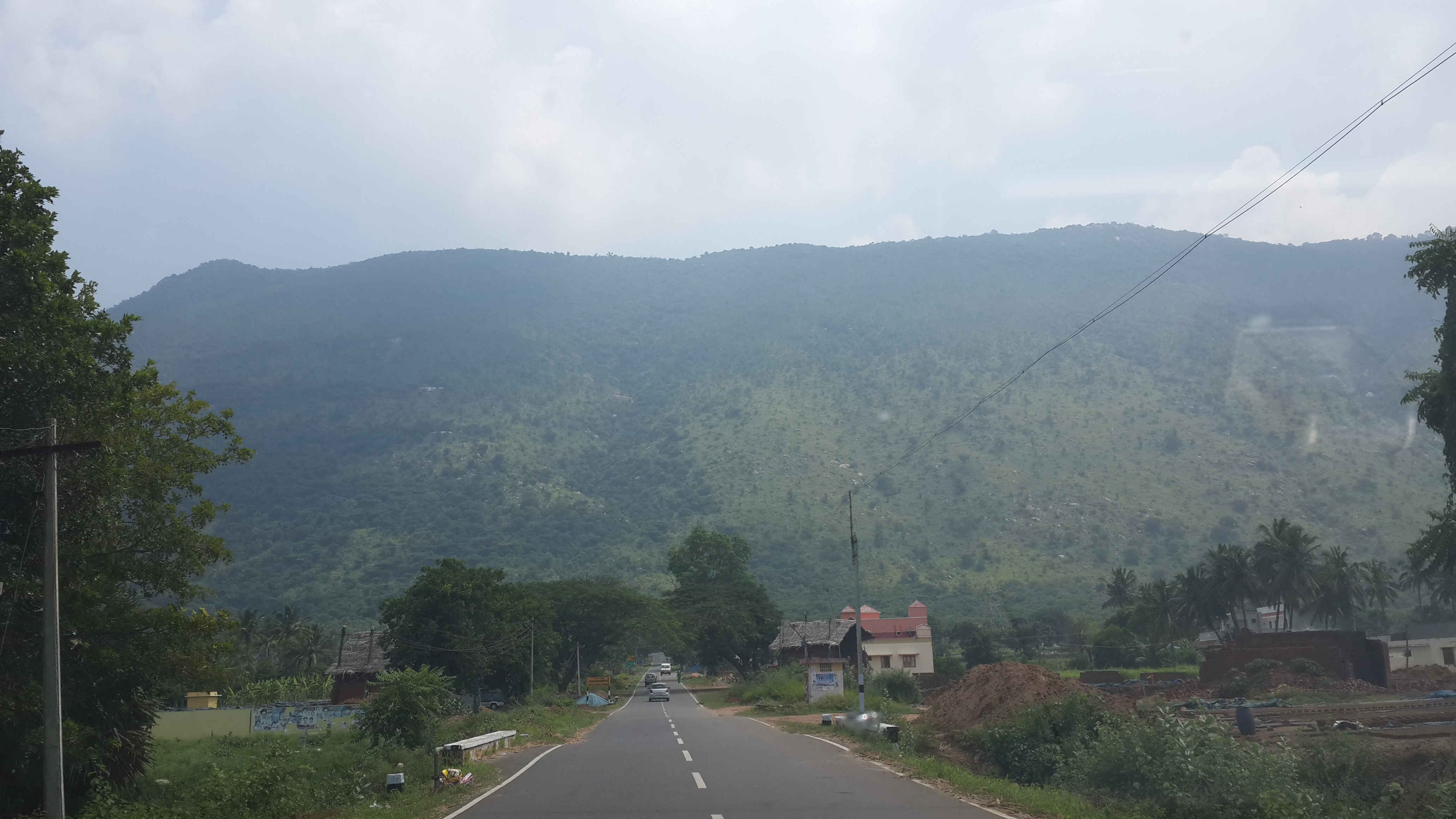 We were pleasantly surprised as we entered the property  where we had booked a cottage. Nestled amidst greenery, flowering shrubs and fruit trees,  it was just the place we were hoping for. Vast acres of green space with cozy cottages, hammocks and park benches, huge trees, birds chirping, swings, exotic plants, kitchen garden and duck pond,  it was an ideal getaway for my family of four.
For my artist daughter,  cricket fanatic son,  outdoor adventure loving husband and a person like me who would love to curl up with a book or sketch, this seemed to be a perfect place to unwind. This private property managed by two brothers had everything a nature lover could wish for – including a private trekking path starting from the premises with our own guide,  a cheerful old farm helper.
Day one was reserved for lazing around and nothing else – apart from us trekking to sunset point and a few good games of badminton, followed by a hearty dinner.
On day two, the weekend crowd started pouring in.  Voices of kids squealing and chattering filled the air. A nearby location for adventure sports beckoned. After a couple of hours of adrenaline rush, we returned back to our oasis for a sumptuous lunch. There is nothing like a short nap on a lazy Saturday afternoon, is there?
My daughter accompanied by her sketch book didn't leave the cottage and my social butterfly son, chased new friends around, played ring ball, badminton and random games and never entered the cottage. Post dinner, a roaring camp fire was an ideal way to wind up a beautiful Saturday.
Day three,  started out with an early morning nature walk around the 10 acre property with Korean grass pathways,  bamboo grooves, trees like mango and guava laden with fruits,  geese quacking, birds chirping and the sun coming up shining brightly. Equipped with a nikon camera deftly around my neck, my hubby and I had a field day clicking away trying to capture the beauty (if that's even possible) in a vain attempt to relive the moments later. That done, we were ready to leave, rested and rejuvenated.
Andaman – The Untouched Paradise
Come April and we start wondering about how are we going to spend our precious summer holidays. And by we, I mean I, because quite frankly I am the only crazy one who starts the feverish search for a perfect destination and that too only in the last moment. Being at the fag end of an academic year with exams and corrections and result preparations and report card work, my mind goes totally numb to anything other than school work until…until the time when the kids and I have just one more week of school left to go. And I get all frantic about not having a plan for vacation. But to be perfectly honest, that's my only contribution to planning a vacation; that's all I do, get crazy about the perfect destination, and that's about it. After that the ball is practically in my husband's court. I literally do nothing more. Everything from booking the tickets to travel logistics to stay is taken care by him.
So the exact same thing happened this time around too; I started putting forth a few suggestions but somehow my kids were pretty hung up on this one phrase "white sand beaches and crystal clear blue water". Don't know where it all came from or what got into them but that made our decision making process a lot easier. So for our wavering mind that was shuttling between a hill station and a beach vacation, this kind of sealed the deal. So beach it was and what better than being surrounded by beaches. Yes, the Andamans of course!
Beautiful picturesque white sand beaches, crystal clear blue water and a haunting history surrounding the islands made the Andamans an intriguing place to visit.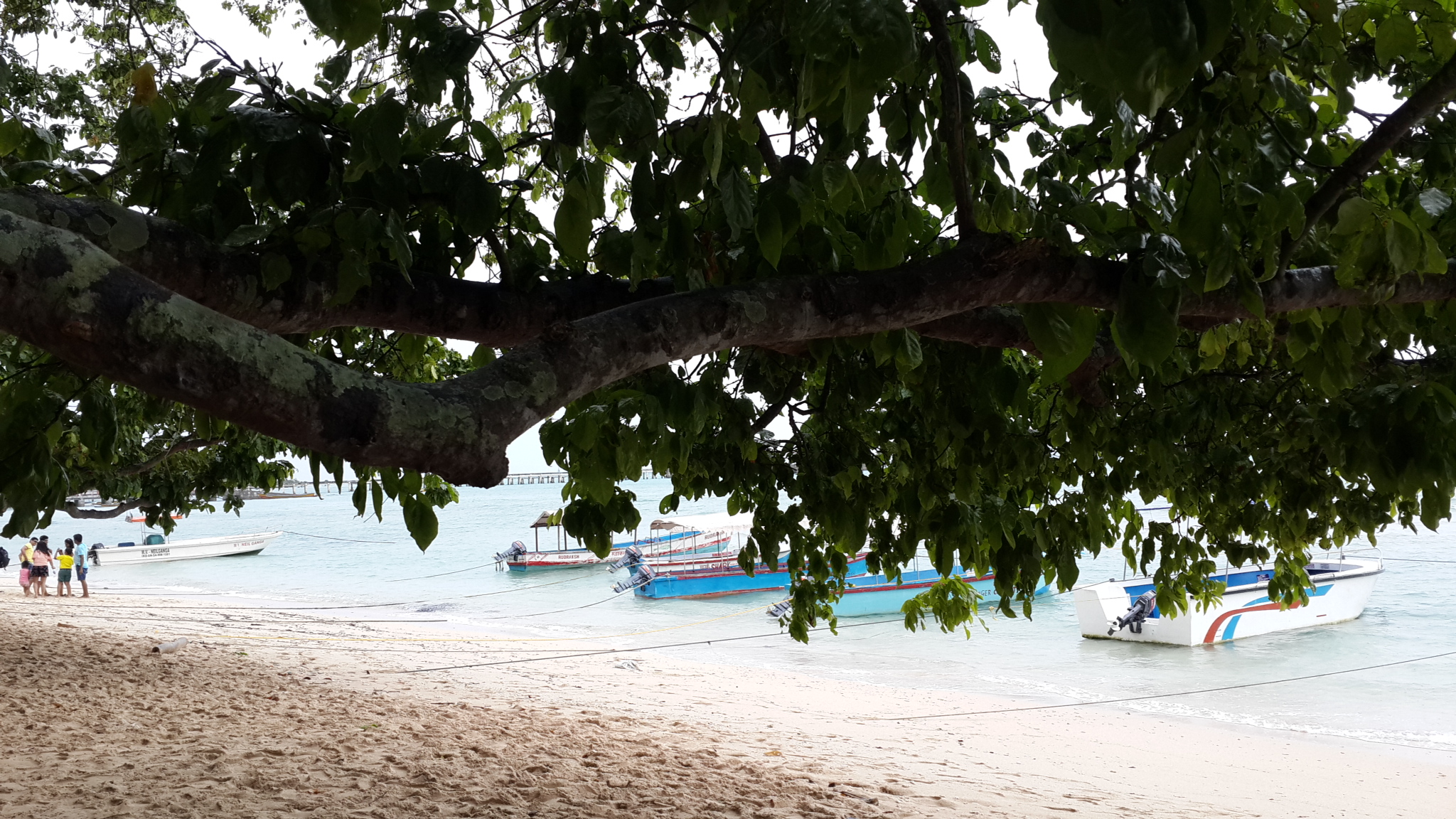 At this point I have to tell you that we as a family consist of a very laid-back sort of people. We don't like to make a 51 pages long itinerary of must do things while we vacation. No one likes to rush through the day ticking off the must see places off the list. In fact, everyone hates it. My kids would rather stay put in a place they seem to like and relax and soak in the fun and the sun rather than be dragged around from one place to another. But we as the responsible grown-ups that we are, try to put our desires aside and do justice to all the travelling we undertook to get to that place and therefore try to make sure we visit at least a few places around. As I told you earlier being last minute planning and all we decided to outsource the logistics part to a travel agency- Thomas Cook due to lack of time.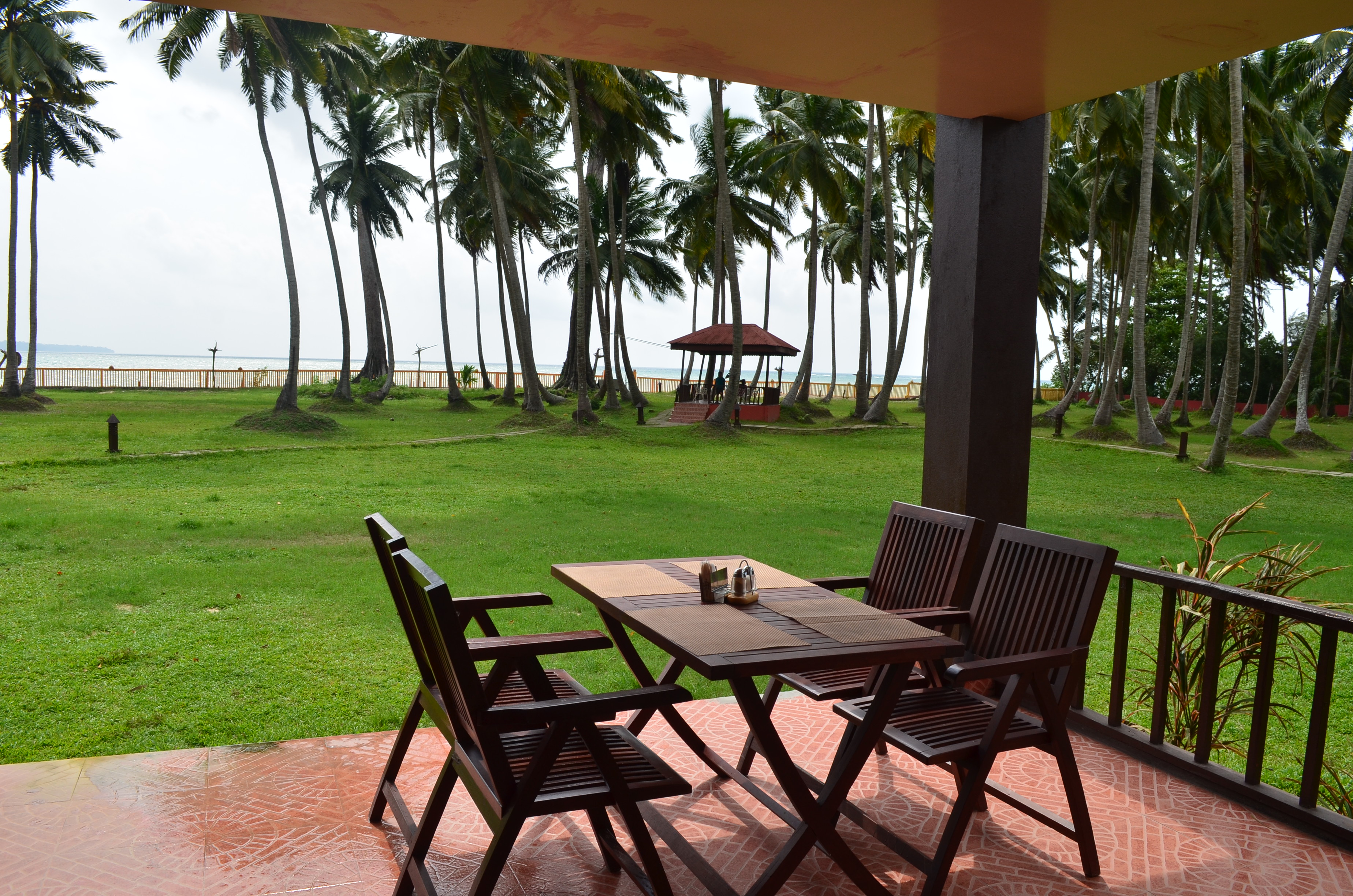 But to our surprise we found that Andaman is a paradise for laid-back people like us. We researched a bit and zeroed in on a few very beautiful beaches which shouldn't be missed. To make it exciting for the kids, we let them do their bit of researching, to avoid looking like villains dragging their kids kicking and screaming from one place to another. Honest to god, they make us look like one.
So on arrival in Port Blair, after checking into our hotel and refreshing our first stop was the historical Cellular Jail. We decided to visit a few islands and decided to stay right on the beach as far as possible to avoid a lot of movement.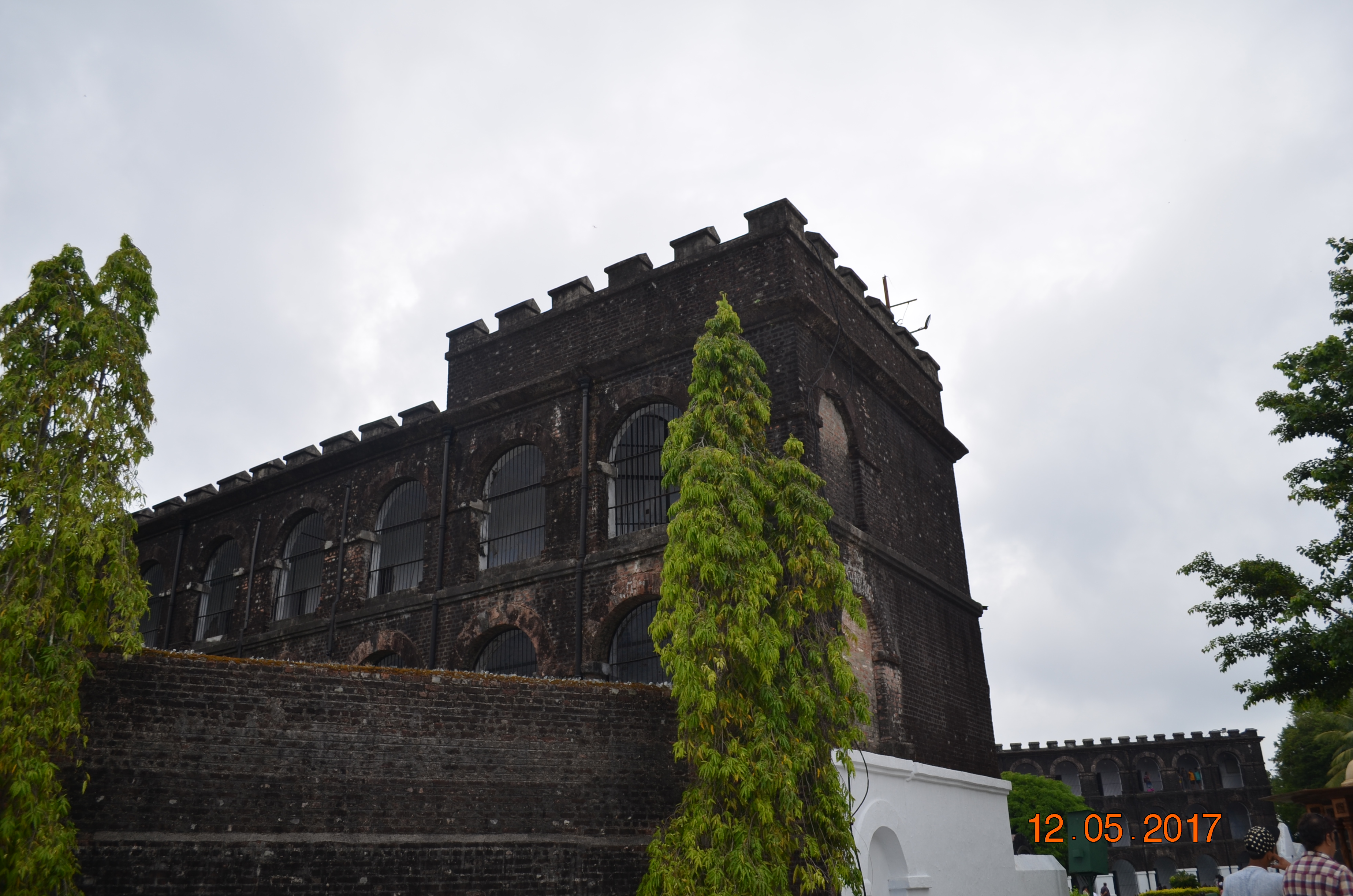 We stayed at Havelock Island for 3 days and booked a cottage on the beach at Symphony palms beach resort. There was a rental service provider renting out bikes on hourly and daily basis and so we didn't think twice before renting a scooter for the 3 days that we were there. If you ever stay on the islands, don't forget to rent out a bike as that's one of the best decisions we took.
My kids are late risers and we didn't want to incur their wrath early in the morning. So we decided not to disturb them but at the same time my husband and I wanted to make the most of the stay in the island. So we made a plan to inform our kids that we would be out in the early mornings for about an hour and they can catch up on their sleep while we drove off on the scooter taking the scenic route to explore nearby beaches, with the morning breeze blowing on our faces… watching the sun rise on the horizon while sipping a hot cup of coffee bought from a road-side vendor…
It was tranquil.
Mesmerising.
Serene.
Nothing you can describe in words.
What a beautiful experience!
And we did this routine every single day of all the 3 days we stayed there. We would take off to the Kaala pathar beach one day and visit the dock the next day.
Hang around sipping tea in a small corner shop taking in the life of the locals living there and their day's activities as they unfold before our eyes, seeing them gather around a fish seller bringing in fresh catch of the day just, as the dawn breaks. I always love knowing a bit of the local culture and cuisine along with the touristy attractions a place offers.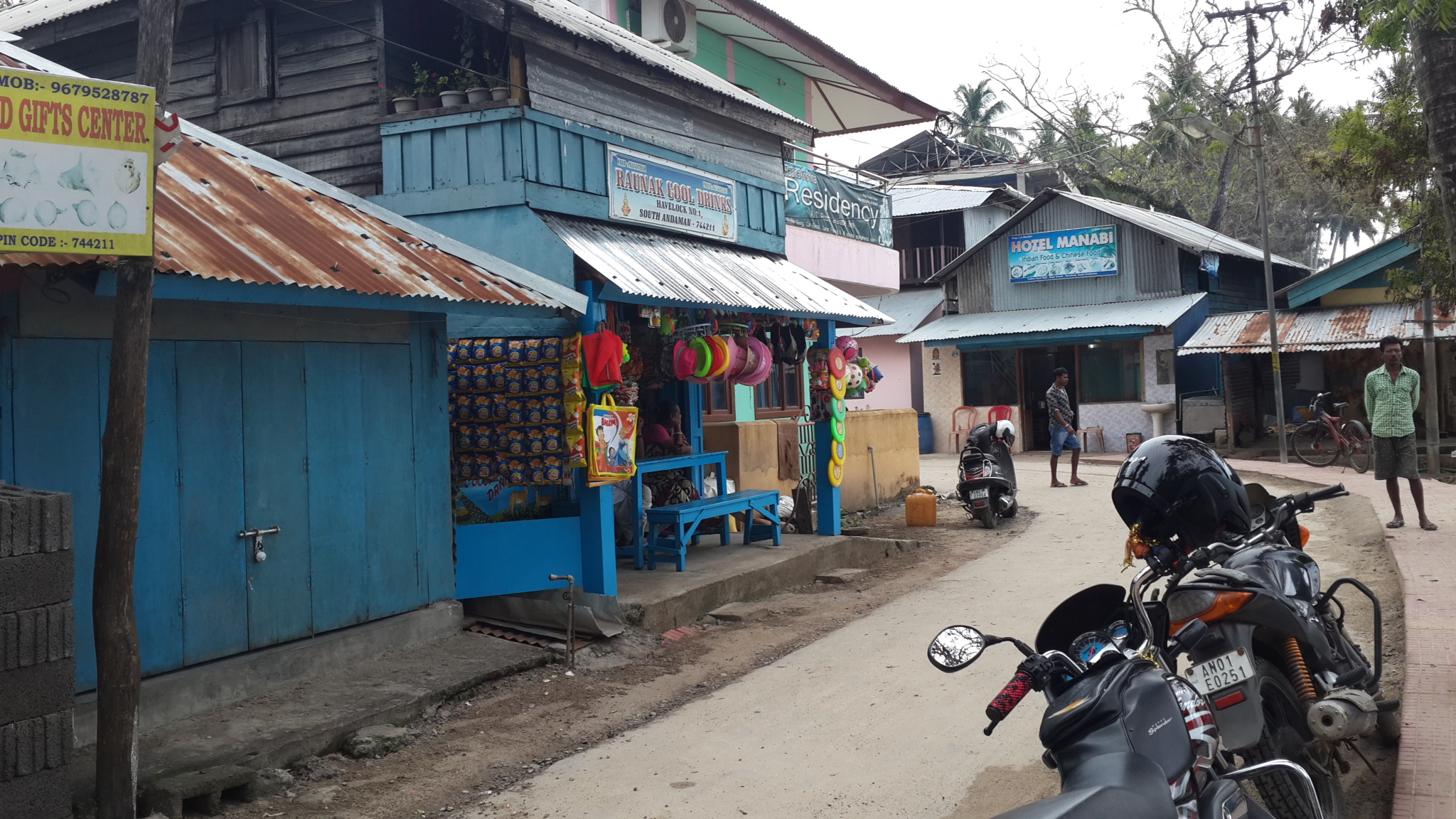 These were also some of the stolen moments we enjoyed as a couple. You know these moments are so hard to come by when you are knee deep in this parenting thing; and it's so important for us to grab a few such precious moments whenever we can. But not a wee bit longer, because we start missing our kids and their squabbles, no matter how much they get on our nerves. Isn't that true for all us parents…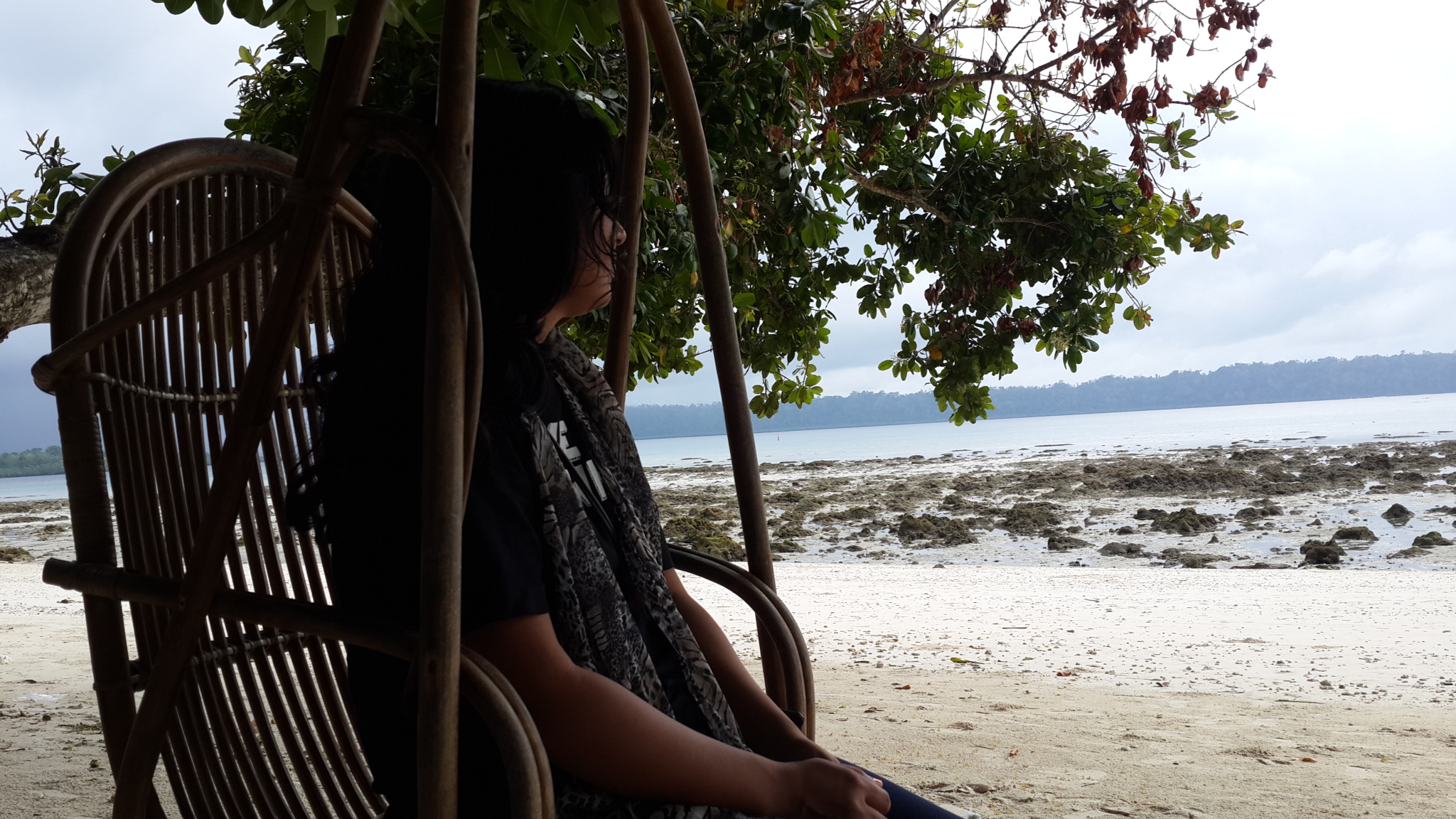 So it turned out to be a perfect choice for an enjoyable vacation with long drives along the beaches, lazing around in the island's backwaters and, for my adventure loving kids (did I mention that though they hate travelling, they love adventure sports especially my daughter) sea walking and snorkelling experience was out of this world.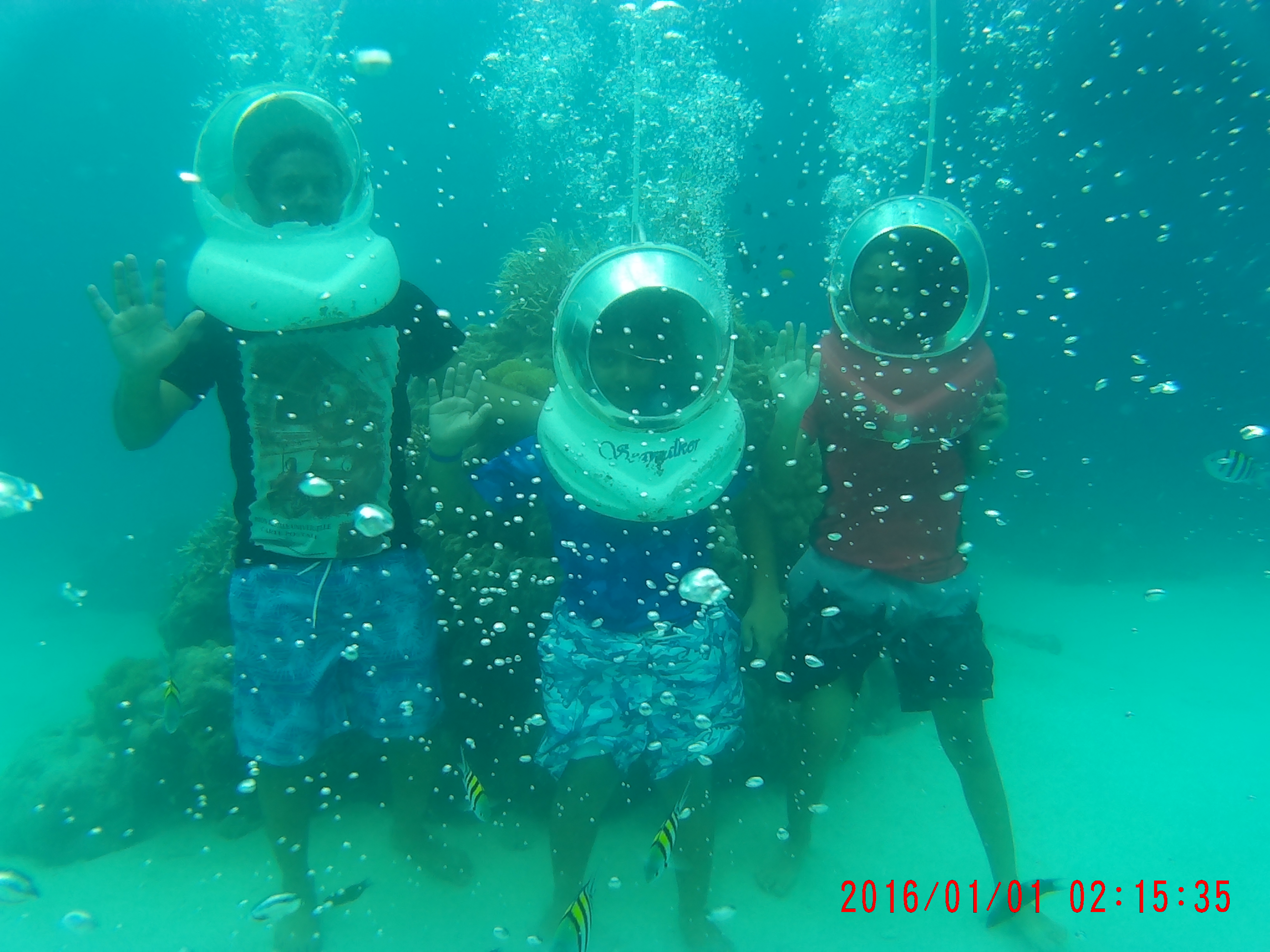 From the time we had zeroed in on Andaman, this was the only thing on their mind; Sea walk, Snorkelling and Scuba diving. Somehow due to inclement weather conditions, they were not able to take up scuba diving.
Actually the dates for our Andaman trip coincided with the onset of monsoons there and that dampened our spirits a bit. I guess it was our ignorance that we simply did not factor in rains while booking our vacation assuming that the month of May being peak summer; there was no chance of rains. But boy were we wrong! So throughout the 7-day trip we had this dread that it might start pouring any minute and our plans for the day would be ruined. You can quite well imagine how it's to be on a beach vacation and having to constantly wonder if it might rain. And being an archipelago of islands, the weather would drastically change from being sunny to gloomy to pouring cats and dogs within a few moments.
And so with that sword hanging on us we were lucky to encounter beautiful weather throughout the trip except for one day.  On the 5th day of our trip while we were getting ready to vacate our cottage in Havelock for our onward trip to Neil Island, it starts pouring, and by pouring I mean lashing out relentlessly without a break.
The whole process of lugging our luggage and kids along up until boarding the Jetty was a wet holy mess. But the rain stopped just as we were ready to disembark and lay our foot on Neil Island.
Though it didn't rain but the constant drizzle throughout the day spoilt our chances of experiencing Scuba diving, as all these water sport activities are subject to weather conditions and it was closed down for the day in Neil Island.
The jetty ride to various nearby islands was definitely a unique experience we all enjoyed.
Our stay in Sea Princess beach resort on the Wandoor beach took our beach experience to a whole new level. What a beautiful property! We were quite pleased that we made the right choice for the final day's stay in the Andamans.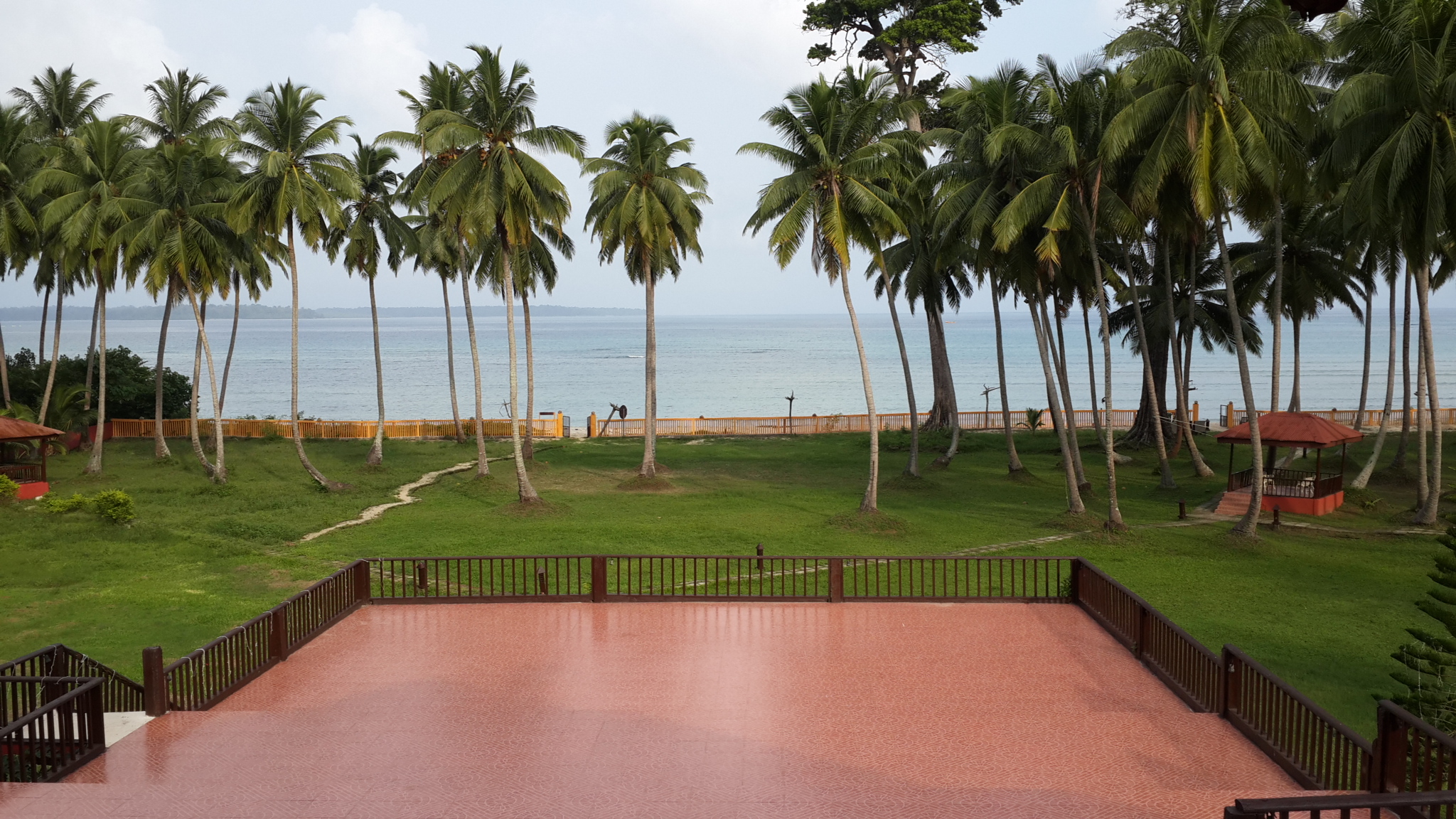 With beautiful beaches of Neil and Havelock Islands, the black rocky beach of kaala pathar, the pristine turquoise blue waters and white sandy shores of Radha Nagar beach which is ranked among the 7th best beaches in Asia, Andaman is an untouched paradise indeed that has survived the commercialisation to a great extent.