Benefits of Thalik Keerai (Purple heart glory)
I was in the backyard watering the freshly planted bougainvillea along the fence when one of the construction workers from the neighboring farm dropped by to get some of our coconut shells for fire-wood purposes. She uses them to prepare the meals for the workers. She came over to ask me if she could take some when she spotted this Thalik keerai exactly where I was working.
She started rattling out the benefits of the keerai and in the same breath gave me a common recipe that is used to cook it. I was taken aback because I didn't know this plant was even edible. I thought it was a weed growing along with the other weeds and I was planning to clean out that area completely post lunch. But thank god Vanitha (that's her name) arrived just in time to enlighten us.
I spared no time in quickly plucking some of these beautiful leaves and put together whatever was available in my bare-minimal kitchen to prepare a little bit of "I don't know what to call it" – chutney/thovayal/masiyal. I didn't have tamarind which was one of the main ingredients she mentioned and therefore had to make do with some raw tamarind, which by the way, is from a tree outside our compound wall but it is literally bent over into our side (shhh…don't tell anyone). The branches are bent over so low into our garden space that we have to bend down and literally crawl over to go the other side. As far as I know it's no one's tree, just a wild one growing well.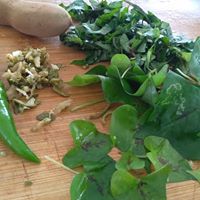 PIC COURTESY – AUTHOR'S OWN
Well, whatever is available must be used for this impromptu recipe, so raw tamarind it is. The result? It was delicious! It added the much needed tangy element to our ellai sapadu (food served on banana leaf) that had steaming hot rice, dal(lentils) and bhindi fry (lady's finger).
Thalik Keerai belongs to Convolvulaceae (Morning glory family). Botanical name is Ipomoea marginata and common English name is Purple Heart Glory. In Tamil it is commonly called Thalik-keerai or Naru-n-tali or puttra-janani or tali.
The health benefits of consuming this green seems to be numerous; (Source-internet)
Helps strengthen nerve weakness
Cures kidney ailment and piles
Enhances vision and cures eye defects
Detoxifies, purifies blood
Cures gut ulcers
Cures skin allergy
Most importantly, it seems to address sterility issues in both men and women which explains its name "Puttra-janani"
Disclaimer: This is merely a collation of information sourced from the internet. Authenticity of information is not known. Read it as a reference but do your own research.
Okay, now I have another leafy green added to my kitty and I will be including it in my weekly menu regularly. All thanks to Vanitha.
Do you know any exotic greens like these? Do let me know in the comments, I would love to know!