DIY Rock Garden – Farm Project Series
I think I didn't tell you about the DIY Rock Garden I attempted to create, have I? I wrote an elaborate post on this and forgot to post it. Silly me…Well, this happened a few months back.
We were spending our weekend at the farm as usual. There was a ton of work going on in different parts of the farm. The pathways were being laid down with the help of extra workers and a few outdoor seating area work was also happening parallely. So our agenda for the weekend was to basically supervise this ongoing "Project Outdoors". We purposely didn't add any other extra farm work to our "TO DO" list and make the weekend any more crazier than it already was. Planning was all very well but you know me better than that don't you! Me and my impromptu ideas…
So, there we were completely in a network free zone, doing a hell a lot of work already and something happens. While the workers are piling up gravel on the pathway, I chance upon a few small rocks/boulders. And my eyes instantly pop open-wide with that spark when I have an idea. My husband knows that spark very well by now; he knows it just indicates trouble in the LALA land.
But, once the idea pops up there is no stopping it. Since the time we bought this property almost 4 years back, we have had our eyes on this huge boulder that was lying under one of the coconut trees near the entrance. Initially while we were clearing a lot of unwanted stuff like broken tree trunks and lots of concrete junk, we were asked if we wanted to move this big boulder away too. And I had almost jumped up and screamed, "NO" Because I just loved it and wanted to place it someplace else, once I knew exactly where I wanted it, that is.
Fast forward to the present…Now with few other boulders around, my mind started working overtime; Mind-voice goes something like this…
"I have the boulders I need." – check
"I have extra people to move these buggers around." – check
"Now all I need to figure out is, where to place these!" – thinking…
You see, as per the initial planning for the farm, we had an idea to create a small artificial pond where I would have my water lilies growing and I would line the pond with these boulders and a few ferns and stuff. You get the idea right…how beautiful would that be…But somehow that didn't materialize and we forgot about the boulders. Now that it surfaced again, I needed a new plan to incorporate these beauties. And I got it…A rock garden! Yes. Around my herb patch! It would be beautiful, Yes, it would be but before that a lot of messy ground work has to be done to finally enjoy the beauty of the final product. So, lots of weeding and tidying up had to be done to finally give shape to this DIY project; the one I had been wanting to do for the longest time…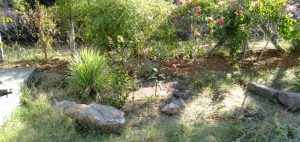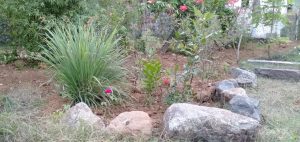 A Rock Garden, YAY! Are you feeling it? The excitement I mean?
And oh…look at the stem like thing in the middle (I call it my "Art inspiration") That's a broken stem of Plumeria that was about to get thrown out when I discovered it and made it a part of my rock garden. Another stem cutting is being used in another space as a hat and towel holder in our vegetable garden patch…oh, the things you can do if you can put on your thinking hats…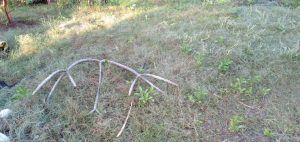 See, I have a thing for rocks, boulders, pebbles and such and I always wanted to have a tiny little something like a rock garden on my farm but I didn't have the resources that it took to build one that looks like the ones you see on the internet. All I had was a couple of big rocks and a few smaller rocks all over the farm strewn across in unforeseen places, hidden under mounds of weeds and soil. Today was the day, I  decided, to finally hunt down and unearth all of them and work on the idea that I have for them in my head! A couple of farm helpers came in handy to move those huge rocks around and… voila!
My own miniature version "Rock Garden" around my herb patch. I am super proud of it…though I know I will keep moving the smaller rocks around a million different times before I am fully satisfied (the OCD, you know) but for now, this will do.
So, what do you think of my "No Expense" "totally DIY" rock garden!!!
What inspiring things have you created around your space? Come on spill the beans…
#Diy #diyfarmprojects #naturalfarmdecor #farmdecor #reuse #rockgarden #inspiration #farmdiy