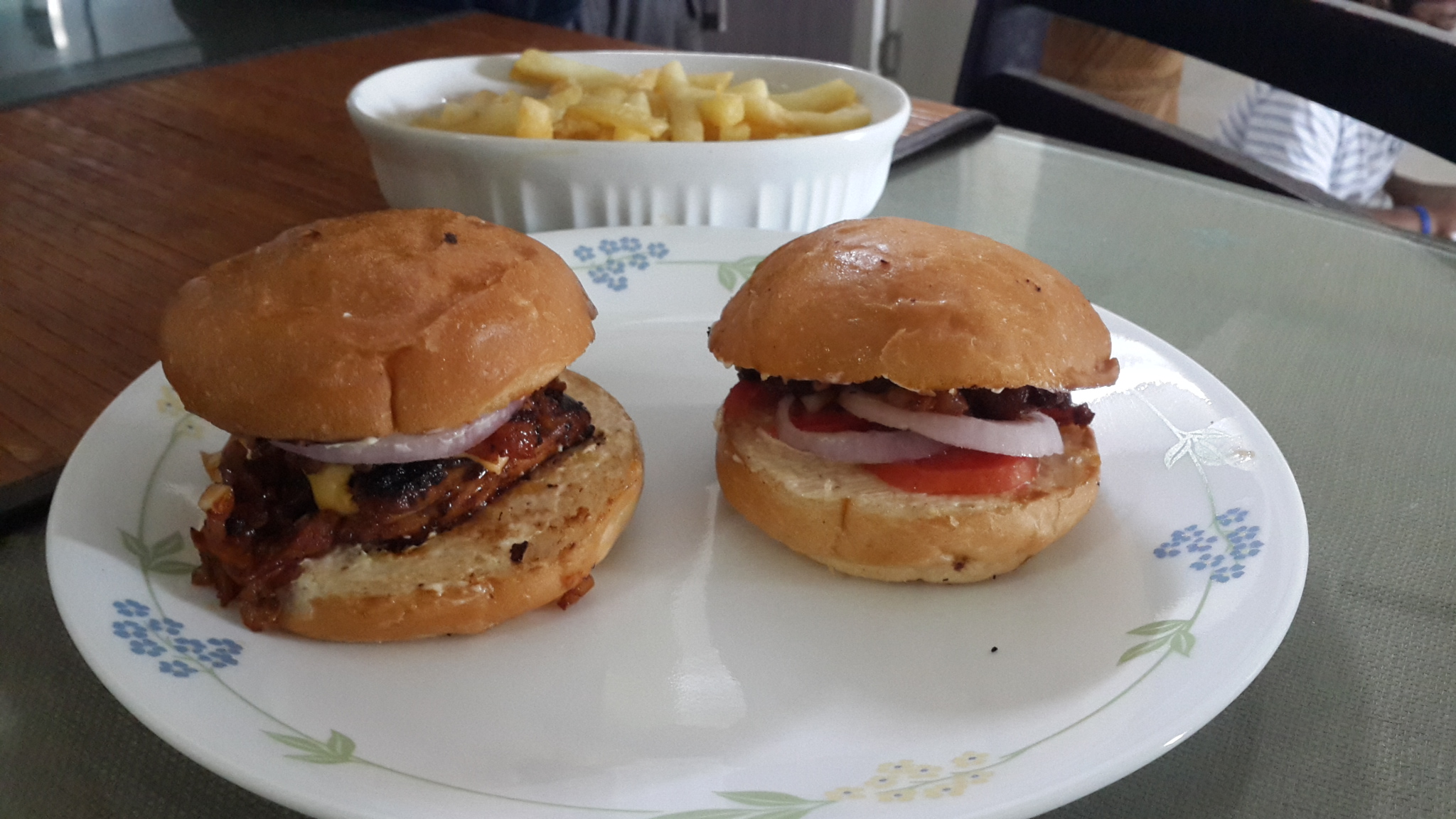 We as a family love Burgers, especially chicken burgers. Though we are conscious about not adding junk food to our diet, to tell you the truth, we do love our occasional guilt- pleasure trip to McDonald's. It's one of those things we took to from our trip to the US and it's been difficult to shake it off.
My kids are great fans of burgers and this recipe is an attempt to make it as healthy as possible and still indulge our taste buds. So here's our little twist to the quintessential crowd puller.
Ingredients:
Burger buns – as required
Chicken – Breast/thigh pieces (approx. size of a patty)
Onions – 2
Tomatoes – 2
Lettuce – a few leaves
Garlic – 2 cloves crushed
Chilli powder – ½ tsp
Coriander powder – ½ tsp
Red chilli flakes – 1 tsp
Crushed pepper – ½ tsp
Soya sauce – 1 tbsp
Chilli sauce – 1 tsp
Tomato sauce – 1 tsp
Italian herbs – basil/oregano (dried )
Oil (for frying) – 3 tbsp
Salt to taste
Method:
Wash the chicken pieces and pat it dry.
In a bowl, add the chicken along with all the spices namely chilli powder, coriander powder, red chilli flakes, crushed pepper ( being an Indian, I like my chicken spicy, so this is my way of adding heat to the dish. You can adjust your spice according to your requirement) and salt.
Rub the dry mix on the chicken pieces. Now add the sauces, Soya, chilli and tomato sauce.
Add the dried herbs and let all the ingredients marinate well.
Take a pan and heat some oil. To this add one chopped onion, one chopped tomato and crushed garlic and sauté it.
Add this mixture to the marinating chicken and let it rest for about half-an-hour.
Take a skillet and heat 3 tbsps of oil.
Frying the chicken pieces one or more at a time depending on your skillet size. I would prefer frying 3-4 pieces at a time to save time and energy and get to eating my burgers soon.
Once done, remove the skillet from the stove and get ready to assemble your burgers.
Heat a pan and gently warm the buttered burger buns and pile it up on a plate, ready for assembly.
Now here's where ideally my kids take over and they do a great job.
Have your lettuce and the remaining tomatoes and onions (thinly sliced in round shapes) ready in a plate.
Assemble as per individual choices with variations to suit each pallete…
You could choose to add cheese slices if you like.
And tada…get ready to bite into some super moist, juicy chicken burgers
This is my original recipe and my take on chicken burger. Do give it a try, I am sure you are going to love it!