Recipe for Homemade Lasagna: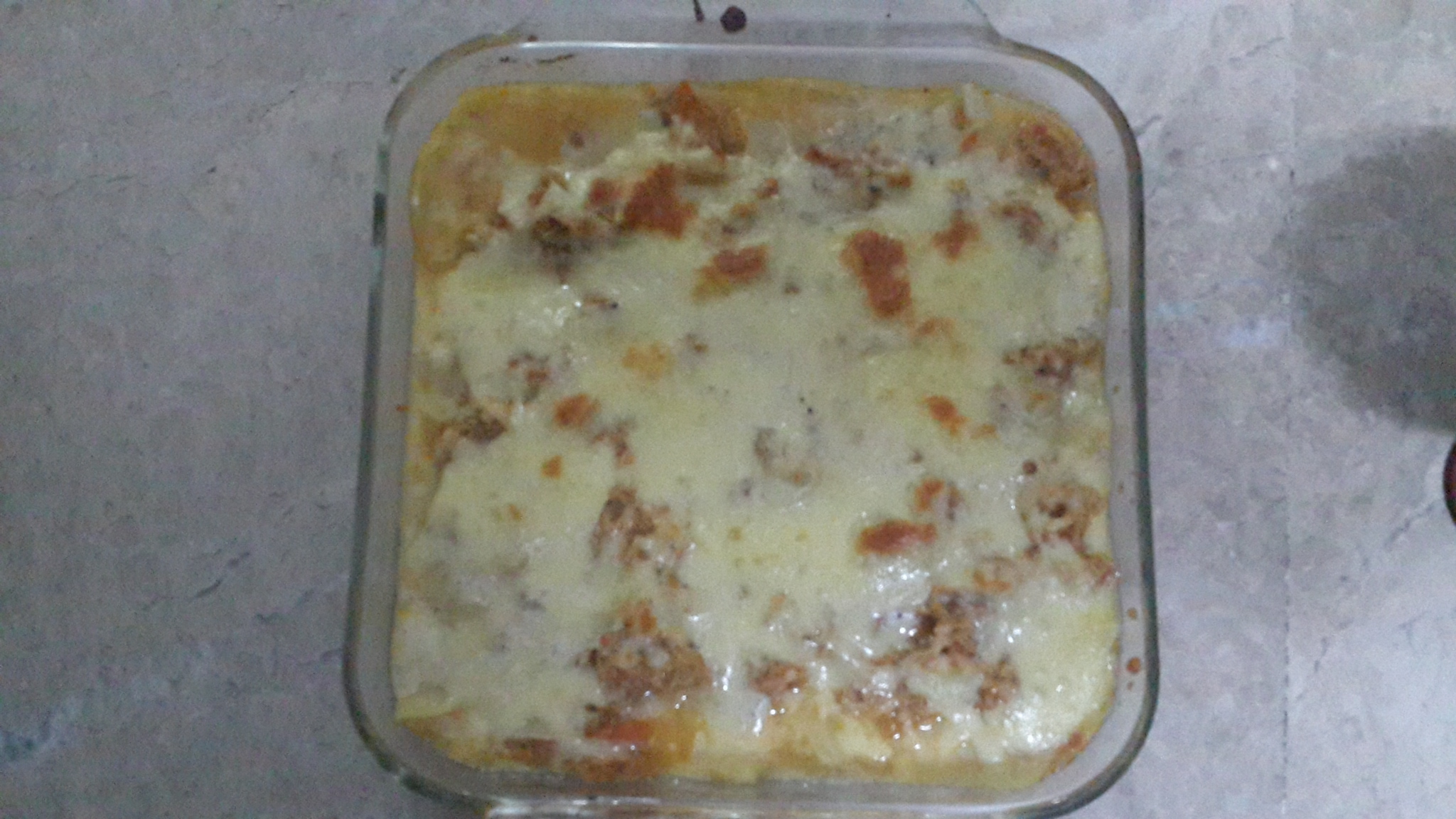 You will need:
Lasagna sheets
Béchamel sauce
Red sauce
Mozzarella cheese
Vegetables/chicken
For the Lasagna sheets:
Plain flour – 1.5 cups
Eggs                2
Milk               ¼ cups
Salt                  to taste
Making Lasagna sheets: (Alternatively you can buy ready-made lasagne sheets too)
Mix all the above ingredients and knead it to a chapatti dough consistency.
You can add a little more flour if needed, to get the desired consistency.
Once done, wrap it with a cling film and leave it aside for one hour.
For the filling:
White sauce (Béchamel sauce):
Plain flour (Maida) – 2 tbl spoons
Butter                      – 2 tbl spoons
Milk                         – 4 cups
Salt and pepper    – to taste
Dry Italian herbs         – Basil and oregano (½ tsp )
In the meantime, start preparing the white sauce, red sauce and vegetable mix.
For white sauce, heat butter in a pan and add the flour and stir till it turns golden brown. Turn the stove on medium flame and then slowly stir in the milk. Keep stirring to avoid lumps. Once it's thoroughly mixed, add salt, pepper powder and the dry herbs. Let the sauce simmer over medium flame. Once the sauce thickens, switch off the stove. Your Béchamel sauce is ready.
Red Sauce:
Tomato – 4-6 medium size
Garlic   – 3 pods (minced finely)
Crushed red chilli flakes – 1 tsp
Salt – to taste
For the red sauce, heat oil in a pan and add minced garlic. Then add finely chop tomatoes stir for a minute or two. Add paprika and salt and let it simmer on medium flame. Once the tomatoes reach a pulpy consistency, switch off the stove. You could use it as it is or run it through a blender for a smoother version.
For Vegetable lasagna:
Onion – 1-2 big
Tomatoes – 2 big
Corn kernels – a handful
Spinach – ½ bunch
Carrot – 1
Paprika – 1 tsp
Salt and pepper – to taste
For Chicken lasagna:
Shredded chicken – 3 cups
Lightly seasoned with salt, pepper and Italian herbs
Any other vegetable/meat of your choice can be added as a variation.
Now for the vegetable mix; Finely chop all the vegetables except corn. Add a little oil to the pan and stir in onion. Fry till golden brown and add all the other ingredients and stir fry for 2 min. Your vegetable mixture is ready.
Assembling the lasagna:
Preheat the oven to 325 degrees.
Take a square or rectangular baking dish and coat it with butter.
Place one sheet at the bottom of the baking dish.
Pour in the red sauce evenly on the sheet.
Add a thin layer of chicken/vegetable mix.
Pour in the béchamel sauce to evenly coat the chicken/veg mix.
Sprinkle shredded mozzarella cheese.
Place another lasagna sheet over the cheese mix and repeat the steps as above.
Finally top your dish generously with mozzarella cheese.
Bake it in a preheated oven for about 20 – 25 min till you see the cheese bubbling and turning golden brown in colour.
Your lasagna is ready to be plated.
Enjoy!