Kids exams got over, and obviously we had to celebrate. Yeah, we never miss an opportunity to celebrate and by celebrate, we mean food of course. Made this Pineapple Upside-down cake after ages. Seriously, this is a recipe I had written down even before my kids were born… Yeah it's that old. (The tattered book stands evidence for that) One of the tastiest cakes I have had.
Somehow didn't get around to baking it for a while now. But saw the pineapple sitting on the dining table yesterday and just couldn't stop myself.
Absolutely delicious, soft and fluffy, melt-in-your-mouth tasty… Not to mention buttery, sweet and loaded with pineapple.
What's more?
Well, I am going to share the recipe with you. Are you excited as much as I am?
Pineapple Upside-down Cake:
Ingredients:
For Cake Batter:
Flour (Maida) – 1 ½ cups
Sugar – ½ cup
Butter – ¼  cup
Egg – 1
Baking Powder – 1 ½ tsp
Milk – ½ cup
Salt – ½ tsp
For layering:
Butter – 3 Tbsps
Brown Sugar – ¾ cup
Pineapple (finely chopped with its juice) – 2 cups
Walnuts/Almonds (slivered) – 2 Tbl sp
Procedure:
Step 1:
In a 9 inch square cake pan ( you could use any other shape too, as long as the size is more or less same).
Melt butter and spread it on the pan.
Sprinkle brown sugar evenly on top of the butter
Sprinkle the nuts on top of this
Now arrange pineapple chunks evenly the nuts
You could create a pattern if you like alternating nuts and pineapple
Step 2:
Cream half cup butter using a hand mixer or beat it manually using a whisk
Add half cup sugar and beat it until light and fluffy
Add egg and beat well
Sift/sieve flour, baking powder and salt for even mixing
Add the sifted dry ingredients alternating with milk
Pour this mixture over the pineapple spread
Bake for 375 F or 180 C for about 35 minutes
Let the cake cool for just about 5 minutes not more
Turn the cake upside-down on to a serving plate
That's it.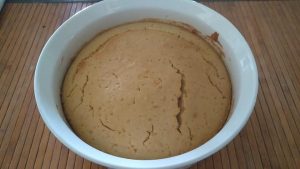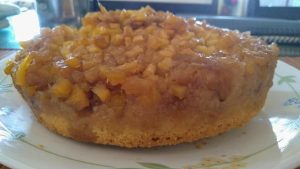 This cake is to be had while it is still warm unlike other cakes. The caramelized sugar blended with the sweet pineapple chunks just melts in your mouth. The melted butter adds a hint of saltiness that beautifully balances out the sweetness.
It's a divine experience, I tell ya. Try one today and you will thank me while you eat your cake.