Pongal – A south Indian breakfast staple:
This dish though traditionally is a breakfast item, we as a family eat it for dinner most of the times. The reason…well, it started during our 8 long year stay in the U.S. Whenever we went out for a day, we always came back home craving for a rice dish which was neither too elaborate but still satisfied our craving for rice.
Why craving for rice you ask? Well, did I tell me you that we are South Indians and down south we people can't live without eating one rice meal a day. Yes…as weird as it may sound to you that's the truth and nothing but the truth.
So, coming to our dish here, it was our answer to a quick, satisfying, one-pot meal which was easy, wholesome and can be prepared in a jiffy after a long hard day.
Ingredients:
Raw rice – 1 cup
Yellow moong dal (Pasi parupu) – 2/3 cup
Whole pepper – 1 tsp
Cumin (jeera) –  1tsp
Ginger – 2 inches long
Cashews – 10-12 halves
Curry leaves – 10-12 leaves
Asafoetida (Heeng or perungayam) – the size of a raisin or ¼ tsp (if using powdered form)
Ghee – 2 tblsp
Oil – 4 tblsp
Water – 4 ½ cups (roughly 3 times the rice & moong dal combined together)
Salt – to taste
Method:
Take rice and moong dal in a bowl and wash it well and set aside.
In a pressure pan heat some oil and meanwhile skin the ginger and run it through a blender to get a coarse paste.

Once the oil it heated through, add whole pepper, jeera, and asafoetida (in the same order as mentioned here)
Add the ginger paste to this and fry for half a minute.
Only fry it briefly till the raw smell is gone. Avoid over-frying it as ginger gets burnt very quickly.
Add the washed rice and dal mix and gently sauté to combine all the ingredients.
Add water and bring it up to a boil.
Add salt to taste. (Please note I add salt only after the water comes to a roaring boil otherwise I find my rice slightly undercooked…maybe it's a superstition but I religiously follow it). Add salt earlier at your own risk.
Now close the lid and put the whistle in place.
Wait for two whistles and switch the stove off just about the time the third whistle is ready to blow. Timing is everything here. Be close by to monitor this step. It's an important part of the whole procedure as for this dish, rice has to be really well cooked and mushy, almost like risotto.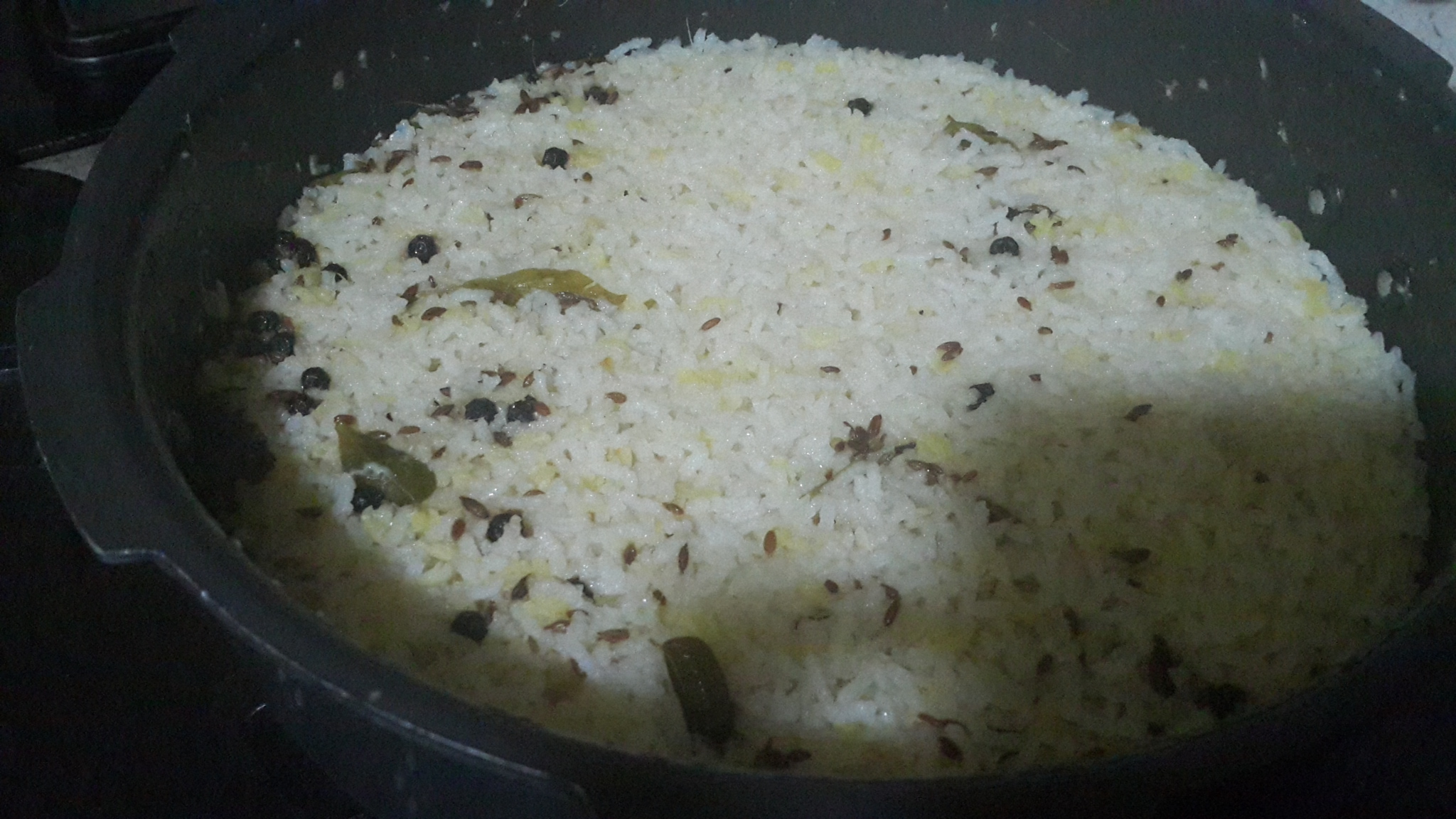 Wait for a good 15 minutes and open the lid. Your rice and dal mix will be cooked to a soft and mushy consistency.
In a small pan, heat the ghee (clarified butter) and add cashews and fry till they turn golden brown in colour and then add curry leaves.
Once the spluttering stops pour this over on the rice and dal and gently fold in all the ingredients together.
Scoop it out on to a serving dish and savour it hot with coconut chutney and sambar.
This dish has such an aromatic, potent  and healthy mix of ingredients , like medicinal spices pepper & jeera, pungent and aromatic resin asafoetida and the robust, warm flavour of ginger…what's not to like and it's super delicious and melts in your mouth.
It's always great coming home to a dish so warm, creamy and inviting like this one…
Your aches and pains and tiredness of the long day, melts into oblivion…