Fresh Basil Pesto
Ingredients
Fresh Basil – 2 cups
Olive oil – ½ cup
Parmesan Cheese – ½ cup (I used mozzarella cheese)
Walnuts – 1/3 cups (Essentially pine nuts are used, but I used walnuts)
Garlic – 3 cloves
Salt – 1/2  tsp (adjust according to taste)
Pepper – ¼ tsp (Freshly ground)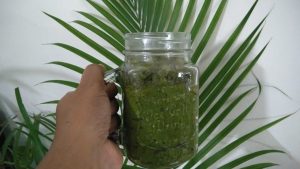 NOTE: Basil pesto darkens quickly when exposed to air. So, to keep the vibrant green colour intact, make sure you top it with an inch of olive oil while storing to cut contact with air. This is the only challenge, in this otherwise very simple recipe.
QUICK TIP: Basil is a highly aromatic herb and if it seems a bit too much for your palate, you could easily mellow down the flavor by adding in some fresh spinach to the mix.
Toss it over your favourite pasta for a quick dinner or spread it over toasted slices of bread or anything else your heart desires.
Pesto Pasta
Once you have the pesto ready, this recipe is a no brainer. But…but, you will still learn a few cool tricks if you read further. I promise, it's worth your time. So, if you have ever tried making pesto pasta, you might have noticed that it comes out quite dry. Usually, the first thing we try is adding more olive oil to make it better but that just makes the pasta too oily and that's no good.
I am going to share a secret trick to make this recipe super juicy and succulent.
Ready!
.
.
JUST ADD PASTA-COOKED WATER!
Yes, it's that simple! This is the secret weapon all Italians and veteran chefs use. And now its yours!
Once the pasta is cooked and you are ready to pour out the excess water, just save a cup of this starchy liquid. Add the pesto to your freshly cooked pasta and drizzle in the saved pasta-cooked water to thin out the sauce giving it a beautifully shiny texture. This also helps in coating the pesto well with pasta, making your pasta super slick and simply delectable!
Follow the steps shown here to achieve a creamy, smooth and luscious Pesto Pasta. Top it with grated Parmesan or any cheese you have around and voila. I used Manchego cheese.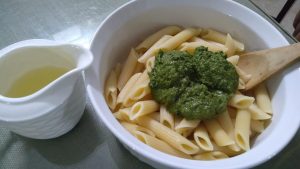 Pic Courtesy – Author's Own
Until next time, try this herbalicious pesto pasta.
Happy cooking!