As an organic farmer I am always looking out for things that are sustainable and eco-friendly. I strongly believe that sustainable natural processes are the only way forward in the world we are living. And that applies to clothing too; I am all for sustainable conscious fashion and living.
I have been a happy customer of Fabindia for more than a decade now, and so imagine my excitement when I got invited to an event organised by Fabindia in association with Momspresso. It was an event organised exclusively for mums of Chennai and there was a bonus Master-class in the offering by professional makeup artist Vidhu. Along with a demo of easy summer makeup looks, a lot of wonderful tips were shared to keep the makeup light and breezy during the summer months especially in a place like Chennai where it gets really hot and humid. The ongoing Q & A session helped clear our doubts as we learnt the tips and tricks of makeup.
I have always loved Fabindia as a brand that promotes Indian ethnic weaves and handicrafts. Their products are natural and ancient Indian craft-based which I love. And they give a contemporary twist to our traditional designs and fabrics making it accessible to the modern millennials as much as to the art aficionados. Their creations are timeless classics that never go out of style.
Not only that, Fabindia connects over 55,000 craft based rural producers to modern urban markets, thereby creating sustainable rural employment as well as preserving India's traditional handicrafts in the process. Their products are handmade by people practicing these crafts and thus help in to providing and sustaining rural employment across India. They work with hand-embroiderers and weavers from all over India and make some stunning clothes using traditional techniques.
When you are wearing Fabindia, you are not just wearing a beautiful dress or a piece of jewellery but you are helping preserve our traditional crafts and art, and also supporting an artisan's house hold. I take pride in knowing that my purchases are in some way helping the artisans behind the creations I wear. And that's a really good feeling.
The makeup session was followed by lunch at Fabcafe within the store premises. It had an amazingly diverse and unique array of dishes from continental to regional cuisines. It catered to not only different taste buds but also offered a variety of options for it's patrons with different needs such as vegan, gluten-free, dairy-free, vegetarian and non-vegetarian too. Being a foodie, I can safely say that I haven't seen such sensibility and sensitivity in food businesses. Being an advocate of zero-waste lifestyle and sustainable living, I was totally floored by their 100% biodegradable and eco-friendly food packaging options. This was the icing on the cake for me.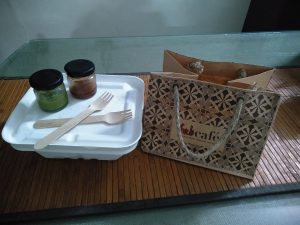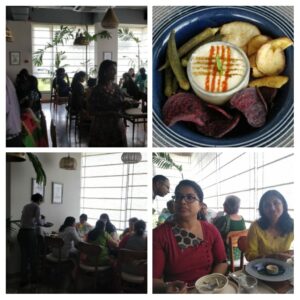 Another very useful addition is the Tugbug play area for kids located within the store. And it's not just another one of the play areas you find in the city stores; this one is an aesthetically designed play area that has recreational toys that are handmade and all natural. The kids are kept wonderfully engaged with colouring activities and natural elements for playing like sand and clay. The caretaker in the Center makes sure the kids are well engaged and stay safe. Mums can shop around peacefully while their kids are creatively engaged in activities they love. This really goes to show that Fabindia understands the needs of mums.
This new format of having an Experience Center instead of a stand-alone store is basically done keeping the customers and their needs in mind. This is mainly aimed at creating a stress free and enjoyable shopping experience for every member of the family. As mums the only things that worries us is keeping our kids engaged while we shop. Every time we leave the house, there are essentially two things that concern us; how to engage our kids who aren't interested in shopping and the next big concern of course, snack/meal time plans. With the experience Center, Fabindia has tackled both the problems and  has given a beautiful solution too. A carefree shopping experience awaits mums of Chennai with this new Experience Center by Fabindia.
There is a new addition of Fabindia's new Skin-Care range too. It has a range of natural cleansers, moisturisers and creams for your everyday needs. Keeping in line with their ethos, these skin-care products are made with natural ingredients and are safe to use on different skin types.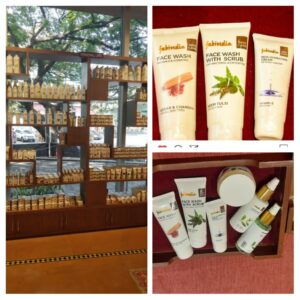 With all this adding to my shopping experience, I love that they keep redefining contemporary trends and create handcrafted masterpieces in vibrant hues and intricate embroideries for every season. I loved their new summer collection while I was in the store and they are amazing. You will always find fresh new designs and trendy collections in the softest cottons and natural fibres that instantly soothes your senses and gives the must needed respite from our Indian summer climate.
It's definitely a brand that blends traditional and contemporary, whether it is clothing, home furnishings or accessories. Their beautiful table cloths, colourful array of runners, bed spreads, curtains and hand-woven dhurries are to die for. Every time I enter their store, I am completely mesmerised by their collections and am like a kid-in-a-candy-store; and this time was nothing different.  Not sure about you but I am sure to frequent my favourite store more often now.
You can read it here too – https://www.momspresso.com/parenting/random-thoughts/article/title-a-funfilled-day-at-the-fabindia-experience-center