WANT TO GROW MICRO GREENS AT HOME?
With increasing difficulties in procuring essentials during the lock-down and times of quarantine, fresh vegetables are becoming more and more difficult to stock due to their perishable nature. Keeping your family healthy in the absence of fresh vegetables is highly challenging but has become even more essential while the whole world is fighting this epidemic. With most people living in apartments and not having space to grow vegetables, it is important to think of innovative ways and find solutions to supplement the nutrition.
My answer to this is – MICRO GREENS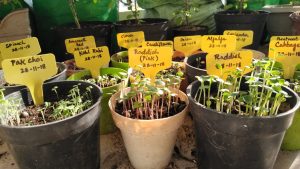 PIC COURTESY – AUTHOR'S OWN
WHAT ARE MICRO GREENS?
Micro greens are exactly what the name says. They are leafy vegetables or salad crops which are harvested at a very early stage – while they are just a couple of weeks old and about 1 -2 inches tall.
Basically they are crops in their micro form are ultra-healthy even in comparison to their fully grown counterparts.
They are cost effective and completely fuss free to grow.
Micro greens are at their healthiest when consumed quickly, so what better way than to grow them in your garden.
They look as good potted as they do on your plate. Get rid of ornamental plants and grow these multipurpose ones instead!
These super foods add plenty in terms of flavour, nutrition, presentation, texture and health to any dish they are used in!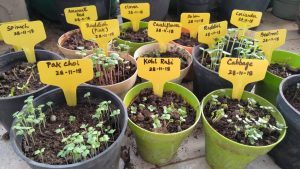 I hope I was able to convince you of their benefits and why should seriously think of growing them.
ANYONE CAN GROW…
Now, you can grow them almost anywhere. Even if you don't have a balcony or pots and planters or any basic gardening tool or knowledge. Yes, just about anyone can grow some greens at home and supplement the nutritional needs of your family.
And No, I am not kidding!
Let me show you how…
Just answer a few questions for me –
Do you have a window sill that receives some amount of sunlight everyday?
Do you have small containers (take out containers/disposables/small trays)?
Do you have a few seeds in your pantry like – mustard, fenugreek, whole green gram,fennel etc)?
If your answer is yes to these questions, then you can grow a few fresh greens right in your home. If you have some good soil or potting mix, well and good but if you don't, no need to worry. Just use a wet cloth or kitchen towel to grow. I am showing how you can grow with some soil here. You can just follow the same in case you are using a cloth.
STEP-BY-STEP INSTRUCTIONS TO GROW
Take a bit of good soil in any shallow container
Scatter the seeds you have
Add a handful of soil to cover the seeds
Sprinkle just enough water to keep the soil and seeds moist.
Keep sprinkling water everyday to ensure it is always kept moist.
You can cover the containers with a newspaper or cloth to prevent evaporation.
Once the seeds germinate, keep the containers wherever you get sunlight.
In about 2 weeks you will have your micro greens ready for harvest.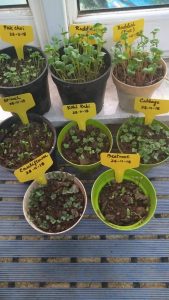 And the best part about this is that it grows within weeks and you can add them to just about any dish and make it multi-folds nutritional just like that!
USING MICRO GREENS IN YOUR RECIPES
You can use them in a number of ways. It's a wonderful addition to your salads. You can use them as garnish for your soups and gravies. It can be used in smoothies too. It enhances, enriches and increases the nutritional value multi-fold wherever it's used.
Micro greens are nutrient dense as they pack more concentrated sources of vitamins and minerals in them. Micro greens are easy to grow and a wonderful way to fulfill your daily nutritional needs.
You do not have to leave your home and you don't have to spend a lot of time and energy either. And the good thing is you can just about grow anything that you find in your kitchen pantry. This is a very simple and effective way to make sure your family's immunity is boosted and you stay healthy. Staying healthy in times of #corona #pandemic shouldn't be difficult with #microgreens.
I hope you will give it a try and do share which micro greens are your favourite.
If you loved reading this, you might also like reading this post I had written for home gardeners – CLICK HERE.
Take care. Stay safe & Happy growing.
Kalpana