My earliest memory of this plant is associated with the quintessential oil bath during my childhood days. The ritual of weekend oil bath is legendary in the southern regions of India and is practiced religiously. Warm sesame oil with few grains of crackled rice and some of these white flowers (thumba poo) would be applied generously on our heads. It had to soak through at least for an hour before we were allowed to take a head bath to wash it off. We knew better not to question these practices back then. I am sure people of my generation will agree with me on that.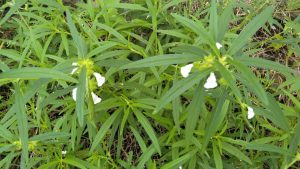 I understood later that it was done to prevent sinus related issues.  It turns out that there is a lot of evidence that it helps in curing upper respiratory illnesses, snoring issues, skin allergies  and headaches. They are particularly known to treat insect bites, even scorpion and snake bites too. This was a powerful and potent traditional medicine in olden days and it worked wonders.Once I read about its benefits, I had to try out some of the recipes incorporating them.
I put together this particular recipe by using locally grown produce that's currently growing on my farm. I used raw papaya and radish greens along with the flowers and other regional greens. And to think that salads had to have lettuce, cucumber and carrots…well, a few misconceptions were broken today. To top it off, I was bowled over by the fresh burst of flavor from locally grown, farm fresh vegetables and flowers. It was mind-blowing!!! So let's explore this nutritionally dense salad recipe…
Get ready to be blown away by this amazingly succulent and juicy salad. Your outlook about salads is about to change! Are you ready?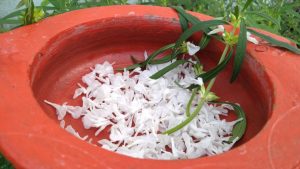 Thumba Poo Salad
Ingredients:
Thumbai poo – ¼ cup
Raw papaya – 1 cup (shredded)
Red radish – 1 medium sized (slivered)
Radish leaves – 1 cup ( coarsely chopped)
Pasalai keerai (Spinach) – 1 cup (coarsely chopped)
Tomato – 1 medium sized, sliced
Nuts (of your choice) – optional
Feta cheese/homemade paneer/mozzarella – optional
Salad Dressing:
Apple Cider Vinegar (I used homemade) – 1 tbl sp
Olive Oil – 1 tbl sp
Basil (fresh or dried) – 1 sprig (few leaves)
Garlic (peeled & crushed) – 1 clove
Salt and pepper (to taste)
Here, let me show you an easy method to combine all the salad dressing ingredients without making a whole lot of mess and adding to your dirty dishes pile. Just one small jar would do…a glass jar is ideal.
Add all the ingredients of the salad dressing into this small jar and shake it vigorously. The oil and vinegar emulsifies and the salt, pepper and basil gets well incorporated. The mild garlic flavor gets infused…And, our vinaigrette is ready!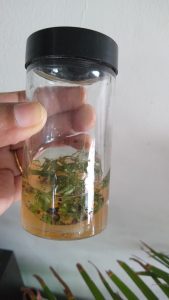 Procedure for the salad:
Wash and dry the vegetables. Shred the Raw papaya and sliver the red radish. Coarsely chop the radish leaves, spinach (pasalai keerai) and tomatoes. Drizzle in the vinaigrette and your salad is ready. Additionally, you could add some crumbled cheese on top and add some chopped nuts for a nice crunch if you wish.
NOTE: Make the salad dressing before you start the salad preparation. This will give the vinaigrette time to infuse all the flavors well for a robust flavor. You could store this in the refrigerator for a couple of days to one week, but I like to make mine fresh.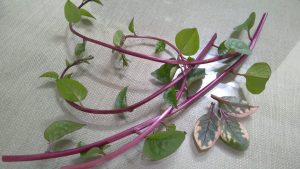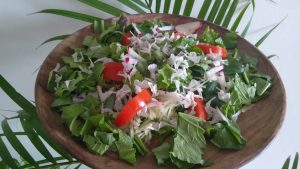 What are you waiting for? Go ahead and try this. You will be totally amazed at what you can do with your local, seasonal and native produce…Who needs lettuce when you have your radish greens, raw papaya and a whole range of local greens!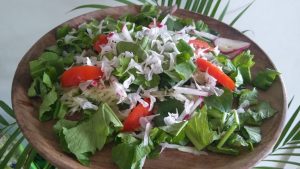 The gorgeous Rosewood cutting board and wooden salad plates are from @essentialtraditionsbykayal. They have a wide range of sustainable cookware from cast iron skillets, bronze and brass-ware to clay-pots and stoneware. You can click here to order your's online.
I am sure you will start experimenting with your local produce more often now…And don't forget to share your new finds with me…BTW, I think I should patent this recipe, what do you think?
Anywhooo…Did you know, there is an interesting mythological story about why Lord Shiva has this little flower adorned on his head? Intrigued much? Why don't you find out and let me know. If you couldn't, I will be happy to tell you the story. I love telling stories…
Until next time,
Happy salad making!

If you like what you read, you can subscribe to my blogs by clicking HERE and to my FREE Newsletter by clicking HERE