This year my farm helpers were especially persuasive about celebrating ayudha pooja at the farm. Every year we'd mostly travel to our native place and therefore never had a chance to perform pooja at the farm. But last weekend while at the farm, they broached the subject and as always we said we will be traveling.
They weren't ready to give in, so gave us multiple options –
"Mam, why don't you drop by enroute travel?"
"Or how about on the way back?"
No matter what we said they countered it enthusiastically. Finally they all ganged up and said that they would take care of everything and all we had to do for drop by for just half an hour.
Well, we couldn't say anything to that and reluctantly agreed! They literally jumped for joy.
So it was decided.
On the way back on Sunday, we dropped in and what a surprise we had waiting…
The ladies were all dressed up, beaming happily and ready with everything.
The pooja was all set up with flowers, incense, and the steaming hot prasadam laid out on a banana leaf. They had prepared sarkaraipongal (sweet pongal), vadai and sundal. The house was sparkling clean and dotted with sandalwood and kumkum. The room that had seed packets, baskets and gardening equipment all strewn across, was all packed up and arranged. The out-house was meticulously cleaned and organized too.
I had tears of joy in my eyes. I just couldn't believe it.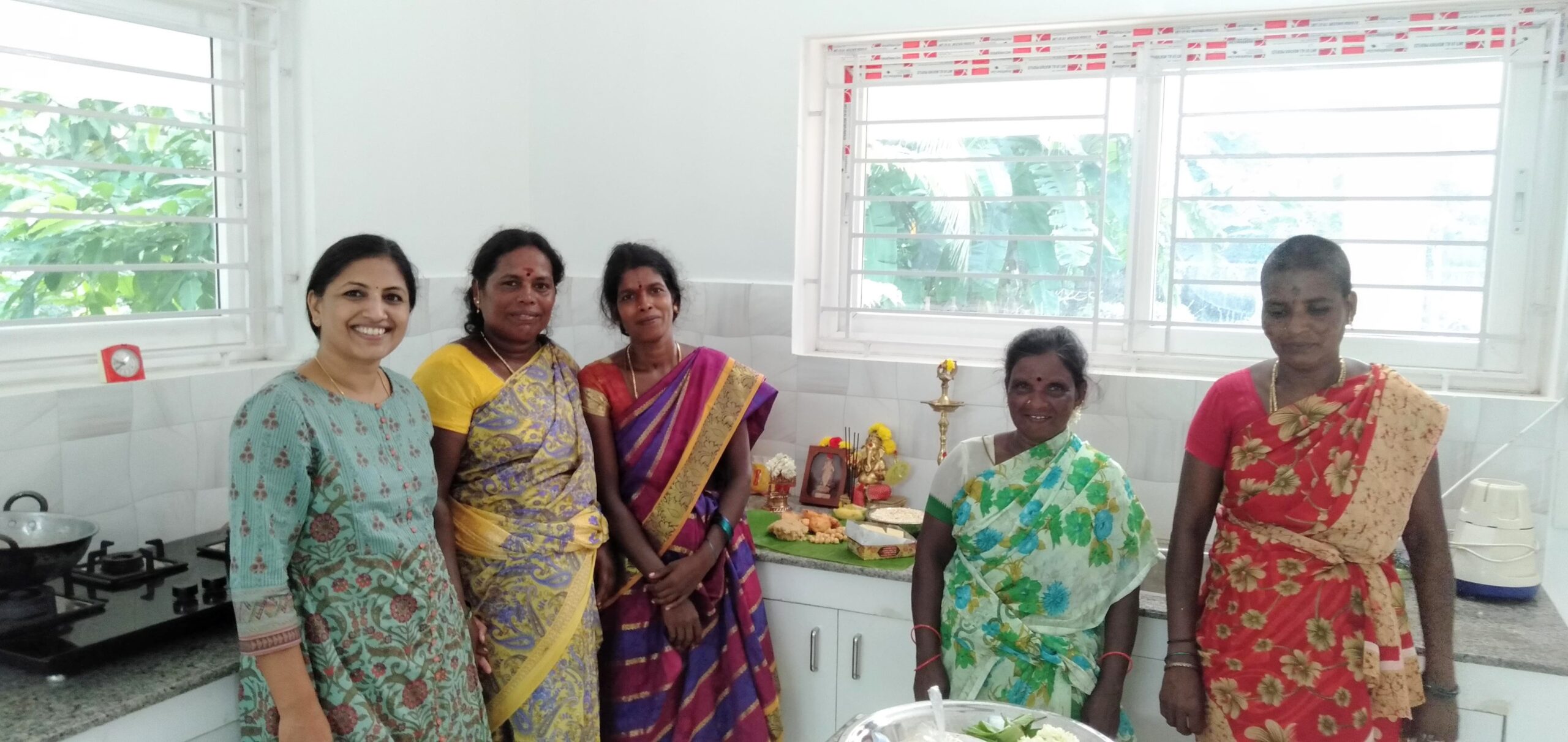 Once the pooja was done at the farm, they insisted we visit the neighborhood temple where they had arranged for a special pooja for us! Kumbhabhishekam had been performed in that temple earlier that day and they wanted us to visit. We all walked over together and had a divine time.
What's more… while I was stunned by all that was unfolding, they surprised us by gifting a new steel container filled with goodies.
I was beyond myself, so overcome with gratitude for this love I was receiving and this warmth I was experiencing.
When I finally find words I say, I should be gifting you and not otherwise & they say, you had done so much for us and it's our turn to reciprocate.
Truly Overwhelmed!!!
Couldn't have had a better day than that! My heart is full.
In another news, I was conferred with Swami Vivekananda Changemaker Award 2021 by #MENTORx at the Educators Commendation Ceremony for being a change maker.
This is very special to me as a mentor and it's a privilege to be bestowed with this prestigious award. MENTORx is empowering Teachers, Educators, Academicians, Tutors, Coaches, and Mentors, and is operational in 65+ countries including, India, Australia, Mauritius, South Africa, Fiji, Japan, Nepal, Vietnam, Italy, Ukraine, Singapore, Kenya, Nigeria, Russia, Lebanon, Canada & many more, with a common vision and the objective of empowering and elevating the youth globally.
Grateful for all the blessings! Grateful to the universe for choosing me to serve the greater good!