Every time I visited my farm I kept making a mental note to pay a closer visit to some of the medicinal plants that has been growing like weeds everywhere on my farm. I spotted the beautiful Thumbai poo (Leucas aspera), Ammaan pacharisi (Euphorbia hirta) and Keezhanelli (Phyllanthus niruri) very early on. The first time I saw them I was overjoyed. I was seeing these plants after a long time. These were a common sight while I was growing up.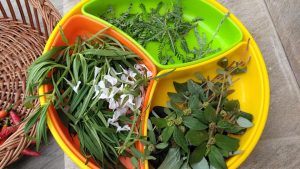 As soon as I spotted them, I gave clear instructions to my farm helpers not to pull them out in the name of weeding. Ever since, I had been meaning to do a bit of research and learn more about their uses so I could use them effectively. But, every time I go to the farm, there's always a truck load of work to be attended to and in all that, I would conveniently postpone this activity. "Maybe next time," I would say to myself. And this went on for months before I got around to it.
Finally, here I am sharing some information on a medicinal herb commonly called Thumbai poo in Tamil, its botanical name is Leucas aspera. I will also be sharing a recipe I tried using the flowers of this plant.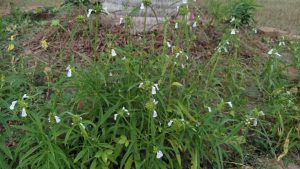 My earliest memory of this plant is associated with the quintessential oil bath during my childhood. The ritual of weekend oil bath is legendary in the southern regions of India. My mom would warm up some sesame oil and add a few grains of raw rice to it till it starts crackling and then add some of these white flowers (thumba poo) to the oil. This oil would be applied generously on our heads. We had to let it soak through before we were allowed to take a head bath to wash it off. We knew better not to question these practices back then. I am sure people of my generation will agree with me. I understood later that it was done to prevent any sinus related issues.  Well, turns out it does help prevent such problems.
Apart from this, the leaves have been traditionally used extensively to treat insect bites, apparently, scorpion and snake bites too. The leaves are also used in treating skin allergies. The leaves and flowers are edible and can be used in various preparations.
It is well known for its medicinal properties in our region. This plant is used traditionally as an antipyretic and insecticide. Medicinally, it has been proven to possess various pharmacological properties like antifungal, antioxidant, antimicrobial and many more.
I had read about their benefits and wanted to try out some of the recipes incorporating them. Without further ado, here's a recipe you can try:
Thumbai Poo Thovayal:
Ingredients:
Thumbai poo (flowers of    ) – ½ cup (gently rinsed)
Toor dal (pigeon pea) – ½ cup
Dried Red chilli – 2 – 4 (adjust to preferable spice level)
Whole black pepper – ½ tsp
Garlic – 1 clove (optional)
Salt – to taste
Oil – 2 tsp
Procedure:
In a pan, heat some oil and fry toor dal, red chilli and black pepper in a low flame
When the dal starts to turn golden brown, add the flowers (thumbai poo) and sauté for a minute.
Remove the aromatic mixture from heat and add a clove of garlic (optional)
Once the mixture cools down, pour the contents in a mixer jar
Add salt and grind it to a coarse paste.
Thumbai poo thovayal is ready.
Variation:
You could additionally add half cup of grated coconut to the mixture and grind too for a variation. But do keep in mind that when you add coconut, the thovayal/chutney has to be consumed within the same day and cannot be stored for a couple of days like the earlier version.
This can be made without garlic too. It tastes equally amazing but being the spice lovers we are I like mine with a hint of garlic. But it's all up to individual taste.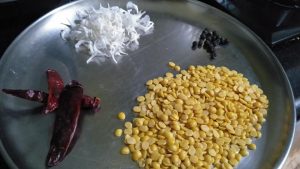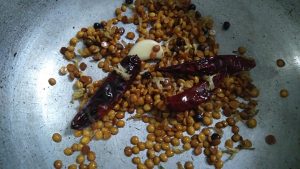 This thovayal/ chutney pairs excellently well with Rasam rice, Sambar/dal  rice or curd rice. It can be had with idly and dosa too. Actually, if you ask me I would say it goes well with everything. You could have it with Mor kozhambu or Kadhi-chawal and just about anything. It's an accompaniment that will add a zing to any menu.
It tastes exactly like our traditional 'Toor dal thovayal' withno apparent difference in taste but has the added nutrition.
I made mine a tad bit spicy and it was amazing!
Do try this as soon as you get your hands on some thumbai poo folks. I am sure you have new found appreciation for this plant after reading my post. I sure hope so.
Do share your thoughts on this post and your feedback on this recipe. I would love to know if you have tried any other recipes as well. For more recipes, click here