Okay, so you see that DIY-kind-of-seat there in the picture below…yeah, right there near the fence…
Well, I was working on a patch right opposite to that and was ready for a break when I happened to glance at this seat from afar. It looked so inviting tucked away under the shade of the pigeon pea (toor dal) trees. So, I walked over and sat down. There was a nice breeze blowing that felt absolutely heavenly on my sweat-drenched face…
But, you see, that moment didn't last much longer. Hint – See the next picture. No sooner than I sat down, I noticed the mature toor dal pods that were ready for harvest. And if we miss harvesting them this week, we will just end up with pods cracked open and all the seeds gone.
How do I know that? Experience, my friend! Failure is a very good teacher…lesson once learnt the hard way, stays with you forever!
You can watch my YouTube Video on Toor dal Harvest HERE
So, I grabbed a bag that I found nearby and started harvesting the pods. What was supposed to be a relaxing time under the shade of the tree, turned out to be harvest time.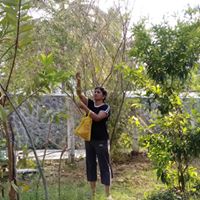 There's always something to do on the farm and that's the beauty of farm life!
This Toor dal (tuvaram parupu) is one of the most versatile pulses. And here, in South of India, you know how important it is for us as you must have known our affinity for sambar
Pigeon pea is a short lived perennial legume. It's a shrub which grows upto 3 to 4 metres tall and branches profusely. The flowers are yellow in colour and the pods grow in clusters giving enough dal for the grower. It is a perennial crop which means I don't have to replant it every season like the other pulses…and that makes me very happy. It lives for about 3 to 5 years, so a few plants in your garden should keep you self sufficient with a constant supply of this legume. It is a small woody shrub and not a very big tree, so it can be grown easily in small spaces as well. It's an excellent nitrogen fixer so it's beneficial for other plants growing around it too.
Only if all vegetable crops were perennials – *sigh* – but then we will become lazy, won't we?
These Pigeon pea trees are about 2 years old and there is a story to how I procured the seeds for these. You see, if you have noticed, toor dal isn't available anywhere in it's original form. Sourcing Urad (black gram), Channa (Bengal gram) and Green gram is easy but getting seeds for Toor dal (pigeon pea) is difficult. You don't get it in the whole form because it is split before it comes to the market.
So as the story goes, we had once visited our neighbour and a good urban farmer friend to say hello. He had been a gracious host and showed us around his beautiful self-sufficient farm space. That's where we had first seen toor dal plants. While he showed us around his property, we had stopped to admire these plants. Later when we recalled that incident, we decided to stop by and see if we could get some seeds from him. And as luck would have it, he was right in the middle of a bountiful harvest and he generously shared some of the seeds with us.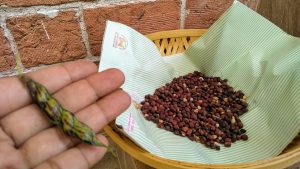 So thankful…
This is the kind of community we need to build. I so wish we could go back to the old world of bartering and sharing and building strong bonds of stewardship.Wishful thinking…
Well, I had planted around 10 seeds and 4 of them have come up very well and as you can see, has started fruiting well too. This is our 3rd harvest so far. Could have been more, if we had payed closer attention to the harvest times. Rookie mistake…well, we live and learn, don't we! The four trees that we have on our farm provides us with year-round supply of toor dal for our family's needs.
Now all I need to do is to break open the pods and collect the seeds. It could be much easily done if we leave it out on the terrace on a hot afternoon and the pods will split open automatically. If not, then you need to do some manual labour like this!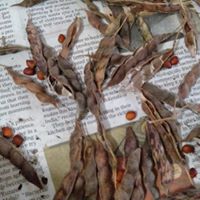 If you missed watching my TOOR DAL HARVEST VIDEO above, then you can watch it HERE
Sure is a back-breaking work if I have to do it alone, but where ever will I get these beautiful organic pulses? The sambar will taste that much more tastier with so much hard-work involved, don't you agree!
I am sure you do…
Cheers!