Hello Soap-making enthusiasts! I know the feeling of wanting to make your own soap because I had been there and it was almost an obsession for me! I had a lot of requests to make this course available online and here it is, after months of toiling and perfecting every aspect of it, to make it a wonderful learning experience for you! So, without further ado, I welcome you to this Beginner's Soap-making Course.
This is strictly for Beginners as the name suggests and will cover the basics of "Cold Process" Method of soap-making.
Before we go any further, I would like to mention that cold-process soap-making method involves usage of caustic soda, a chemical called Sodium Hydroxide, commonly called "Lye". This is the chemical that converts the oils to soap. I am sure if you are here, you might already know this, but I just wanted to be "extra clear" to ensure you make the right choice before purchasing the course. All methods of "from scratch" soap making requires usage of Lye. In case, you haven't heard this before, I suggest you learn more about it before you decide to buy the course. Though lye is caustic in nature and needs safe handling, you can use it perfectly well by following all the safety protocols that I have included in the course. I have been making soaps myself, for more than 3 years now.
So, if you are with me so far, then let's quickly have a glance on what the course entails;
Each lesson will equip you with the information you need to start your soap-making journey. I have included everything you will need to make soap-making a breeze for you.
This course covers the following topics:
A Brief Introduction to Different Methods of Soap-Making

Lye Safety Protocols & General Instructions

Workspace, Tools, Ingredient list

Step by Step Method to Cold Process Soap Making

Recipe for

Cold Process Soap Making – without Palm Oil and with Palm Oil

A Brief on Soft & Hard Oils

Soap Variants using Herbs and Essential Oils

Material Buying Guide

Video Tutorials for all the instructions & Soap Making

FAQs
Once you buy the course, you get one month WhatsApp support at 9789867598, for any queries you may have.
Know Your Instructor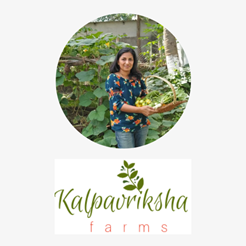 Kalpana Manivannan
Organic Farmer | Sustainability Coach | Teacher | Blogger 
Kalpana Manivannan is an Urban Organic Farmer and Sustainability Coach & Mentor helping city folks start their sustainability journey and increase their self-reliance. She is the Founder and CEO of Kalpavriksha Farms –  www.kalpavrikshafarms.com 
She also teaches farming to school students and conducts online workshops on Organic Vegetable Gardening and making your own Chemical-free All natural Cleaners. She is also the best selling author of "Cook-From-Scratch" E-Course. She lives in Chennai with her husband and two teenage kids, and makes the best of both worlds as a weekend farmer and an urban city dweller, living as sustainably as possible while managing a farm to table lifestyle for most part of the year! Oh, and she enjoys making soaps using coconut oil from her own farm!