This is post 2 of the series I am writing wherein I share my personal experiences and thoughts from the past year. To read the previous post click here.
29 Dec 2017
With the green signal given by electricity supply and the quiet enlightenment of a farmhouse, my mind is on overdrive; Designing my cozy farmhouse, scrounging books and Internet for farmhouse ideas seemed to be the order of the day…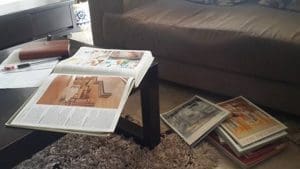 Of course, we aren't naïve not to notice the big financial crunch this farmhouse dream would put us through; a bank loan and probably selling off a piece of property we owned would be the only way to take this forward. That part being looked into, our next big question was to find a builder who would suit our budget and sensibilities.
We had a couple of references, one from a friend of ours and another from the person from whom we bought the farm. We knew him and we had already visited a farmhouse he had built for our neighbour. So, we decided to schedule a meeting with him to see how it would work out for us.
After one meeting, we were totally convinced that he was the contractor we wanted to work with. He understood our financial constraints and kept allowance for the outrageous ideas we put forth too. Knowing him from the time of finalizing the farm property, gave us the comfort to sign him up for the farmhouse project.
Once we shook hands on that, things started moving pretty fast. From looking at ideas for gardening, we were suddenly looking at farm house ideas. This was definitely my kind of fun. Designing my farmhouse to exactly how I envisioned it to be was the best thing ever.I had very specific ideas for it.
I wanted large windows all around the house, to literally transport me outdoors. From any part of the living area I wanted to be able to see my farm. Another very specific thing was to have the back door of the house opening into the organic garden.
I have been having this recurrent dream of me in my farmhouse kitchen, opening my swinging back door and strolling into my organic farm to pick my day's veggies and walking back to my kitchen with a basket full of fresh vegetables and herbs to cook. What a sweet dream, isn't it?
I also wanted a blue and white Santorini inspired look for my farmhouse. All this with a budget crunch, you think? Well, who can stop a dreamer! Budget or not, I wasn't about to settle for something ugly, no way. Okay, reality check was very important and therefore, I made some compromises with the size of the house to get something in blue and white within our budget, of course. We decided on a smaller house as we wanted more of the outdoor space on the farm to remain so. This is where our contractor was really helpful. He gave us ideas to bring in the look with the limited budget we were looking at.
Now, with all these images in my head, I had to design the house with an open island kitchen and the rooms and the ahem…swinging back door too, all in the right place. Loads of work to do, can't get this wrong!
Until next time!
Keep dreaming! Dreams do come true!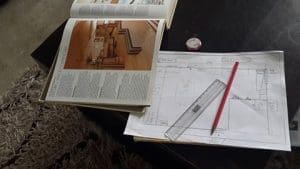 Click here to read about the construction of my farmhouse.