If I am not a planner, I am nothing. Yeah, I love planning. It always starts with ideas hogging my mind space, so much so that I have to put it down on paper to make any sense out of it. Once I have dumped it on the paper, that's when it takes shape and gives me a direction and the right tools and steps to take it forward.
You must have seen my planning of the farmhouse and the raised bed garden and now after more than two years I am back with planning another major project on the farm. So, of course it has to follow the same protocol; the planning, the putting down on paper etc. Here's the Farmhouse outdoor renovation video.
If you remember, I had talked about how difficult it was for us to take this step forward earlier due to budget constraints and finally what pushed us over the edge was the rains and the condition of our farm during and after it.
So, we decided it was time to make the plans on the paper, a reality! But it had to be a little different than how we wanted it initially. Because we had to take this step a little earlier than expected, we aren't ready with the estimated budget. So we made cost cuts wherever possible. Absolutely no allowance for anything remotely fancy. From the materials used, the extent of work and labour cost, everything had to be factored in. We stuck to the most basic things- locally sourced materials over fancy products; usability over beauty and cost effectiveness over exotic finish. It wasn't easy but it had to be done.
The whole earlier planning went for a toss and I had to work out everything from scratch. All Over Again. I would sit on the verandah of our farmhouse during our many stays and wonder –
"Where exactly would it be ideal to have my outdoor lunch table?"
"Where would I want my tea/reading area?"
"Where would I want the benches for a small gathering to go?"…and such…
I was only looking from an aesthetic point of view. But during one of those many observations from the verandah, it struck me that the most important deciding factor had to be the sunlight or rather the shade factor! You see, we live in a part of the world that has Scorching Summer almost year-round. Of course, that's the most practical factor that I should have taken into account more than anything else. Duh! *face palm reaction* How can we imagine sitting outdoors when it's scorching hot?
It was such an aha moment really…How could I have not thought about it earlier! And that's when my quest to find the most optimal place started all over again. Scratched off all the earlier sketches I had made and started afresh. My agenda for the next few weeks was to note down the direction of sun and it's effect on various places on the farm at various times of the day.
I started making a list of shady, cool areas on my farm; spaces which were almost always in shade due to trees around them or the spaces that had the farmhouse's shadow falling over. So after keen observation for many days, I finally arrived at 3 spots that had the maximum shade even during the peak afternoon sun. And thus the space for our outdoor lunch table, our picnic area and tea spot was zeroed in. A winding pathway from the gate leading up to the house was one of my dreams for my farm space.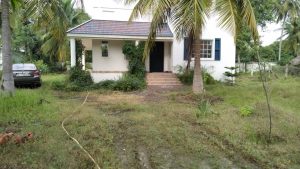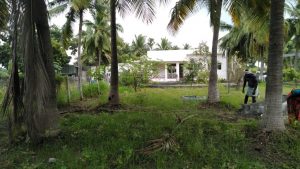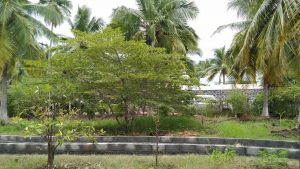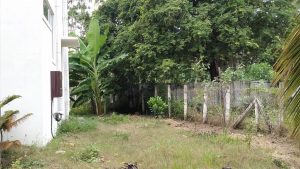 (THESE ARE THE BEFORE PICTURES)
Phew, a big weight lifted off my shoulders once I had the spots figured out. Imagine building something concrete and then finding out that we had it all placed in the wrong area. That would have been disastrous and not to mention, an utter waste of money spent on outdoor spaces that can neither be utilised nor shifted.
Once that was in place, we had the good fortune of having a known contractor working on our neighbour's property. He gave us a good quotation based on our limited budget and ensured that the work will be completed much sooner than expected as the workers and material supply was already in place for the neighbour's construction. Well, that sorted itself out pretty quickly, don't you think! Have to say, we were very lucky in that area. With that, everything else started falling into place soon.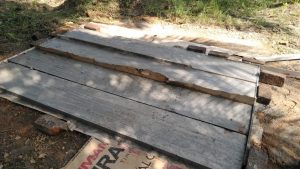 We gave our design and discussed our vision in detail with the contractor and the work picked up pace as promised. We started looking at marbles, granites, paver blocks and other things that we had to select. The next few weekends were spent at the farm supervising the civil work and paying close attention to details and designs.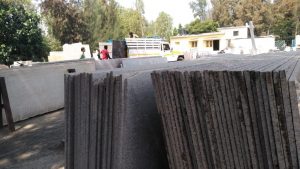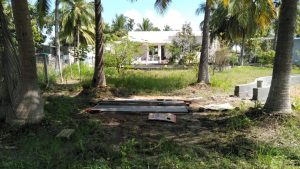 Things were moving up pretty quickly with the winding pathway being the first ones to come up. Though I drew the pathway using the lime powder and lined up bricks along the way for the workers to follow, I was worried about the outcome. I somehow felt they would mess it up and not give the right amount of curve at the right places. But I have to say, it came out just the way I had dreamt.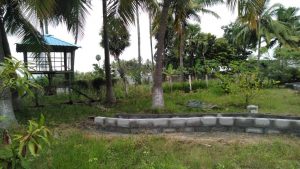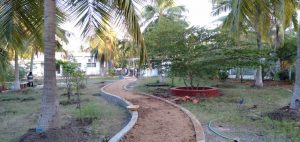 The winding pathways- PC-Author's own
Next came up the seating area around the Singapore cherry tree. That was supposed to be my Tea-time and a reading nook. I dreamed that the kids would lay around it and read story books while we could sit and have our tea and probably read or plan our gardening ideas.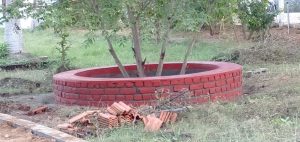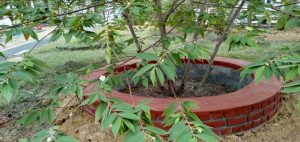 The next in line was our group gathering space under the four coconut palms. We always ended up calling that space "Four Tree Point" for the same reason whenever we had to refer to that place. It was a beautiful space with four coconut trees placed in a way that if we were to draw up lines around the periphery of the trees we would get an exact square. And so, I thought we could do just that; have four long benches on the periphery, each bench placed right between two trees to form a square – it would be our gathering space of sorts. (You should have seen this place during the rains…omg…scroll up to see the picture if you missed it)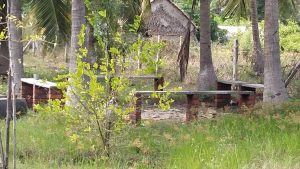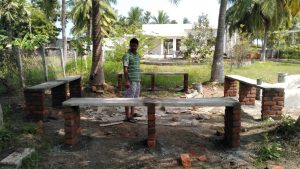 The lunch table was the one that needed a bit more effort. With some adjustments and reworking later, the outdoor lunch space was done too. This place was decided for lunch because not only was it closer to the house with easy access from the back door, it also had shade most of the time due to the shadow of the building falling over it.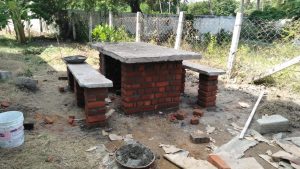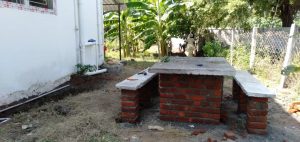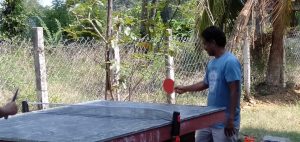 The only thing that took a bit more time, was the driveway. It was partly our fault too as we weren't quite decisive about what materials we wanted to use. We definitely wanted to go with some very natural materials that would complement our farm space and not make it look like a commercial space. But our contractor dissuaded us citing maintenance, efficiency and life of such a driveway. Being amateurs in that area, we just had to go with his suggestion and so, though we didn't want to, we went the regular paver block way! Not having the band-width to either keep up with costly maintenance work nor the expertise to go against expert advice, this was the best we could do, so no complaints there – plus not to mention, we didn't have the budget to look at a variety of other options. Also something to keep in mind is that each type of floor/path laying comes with its own set of expert labour, which again has to be outsourced. At this point, we just wanted something functional and to have the project wrapped up. Priorities people!
So, this was the final, very basic yet functional outcome of our driveway.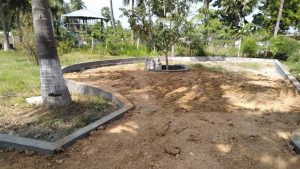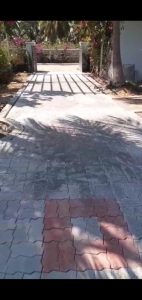 I think this looks nice. Looks good and would probably not cause any maintenance issues for us either.
So, there, my big project on the farm was executed to perfection. Though I started out feeling that we had to compromise a lot, I am quite happy with the simple yet earthy tone and the final brick and granite finish. Couldn't be happier!
What do you think?
Let me know in the comments. I would love to hear your thoughts…