"Soap Making Course for Beginners" is an online e-course –  Your Ultimate Guide to Create Your Own Nourishing Natural Organic Homemade Soaps using Cold Process ! Learn how to make soaps at home.
You won't buy soap again!
My USP is "Learner Support".
You will get minimum 1 MONTH guidance, through a WhatsApp group, when you put learning into practice.
Effectiveness of my support can be seen from my participant testimonials.
100+ customers
Have learnt how to make soap at home and are making their own chemical free soaps. Some have even become entrepreneurs selling their soaps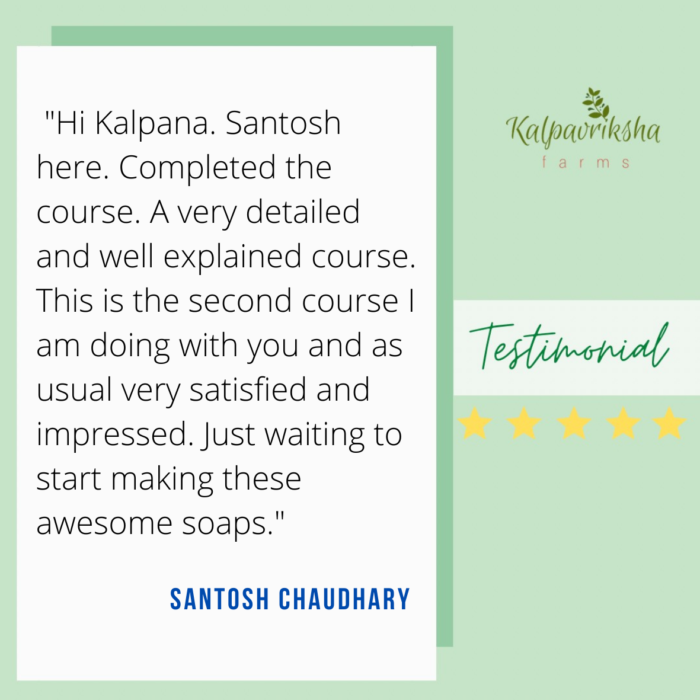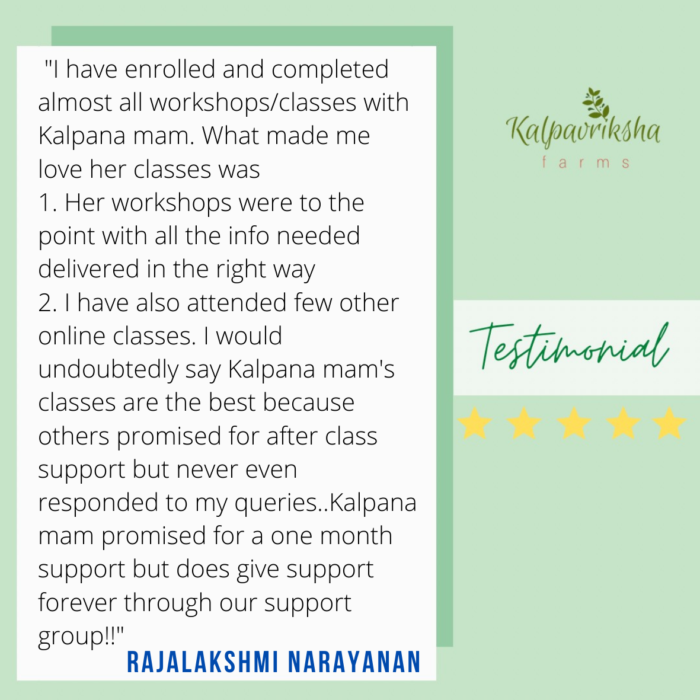 Learn soap making process from a practitioner, on how to make soap at home. I started making natural homemade soaps more than 3 years back for me and started selling to others who were looking for such natural organic soaps.
This course covers the following topics:
A Brief Introduction to Different Methods of Soap-Making

Lye Safety Protocols & General Instructions

Soap Making Kit, Workspace, Tools, Ingredients list

Step by Step Method to Cold Process Soap Making – Make your own Soap Base from scratch

Recipe for Cold Process Soap Making – without Palm Oil and with Palm Oil

A Brief on Soft & Hard Oils

Soap Variants using Herbs and Essential Oils

FAQs

Video Tutorials
TO LEARN MORE ABOUT THE COURSE – CLICK HERE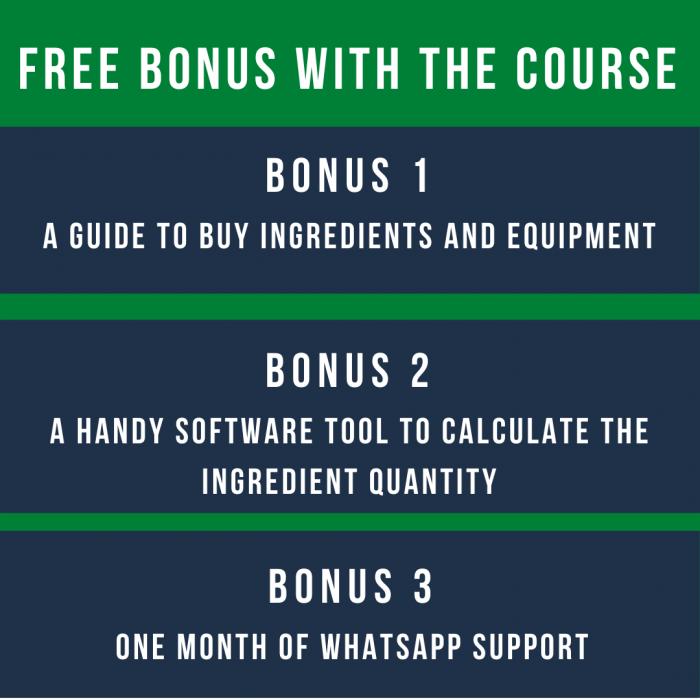 E-Course is being delivered through THINKIFIC platform. To login to the platform and to access the course after payment, your user id and password need to be created in the THINKIFIC platform. There is a provision to login using Facebook, Google, LinkedIn instead of creating a new user ID and password as well.
We assure you that your user credentials are for course access only and we will not be using these data for any other purposes. No spamming.
Once you buy the course, you get FREE lifetime access. 
You can avail the SPECIAL OFFER now…
For exciting course bundles, click HERE to know more on lifetime deals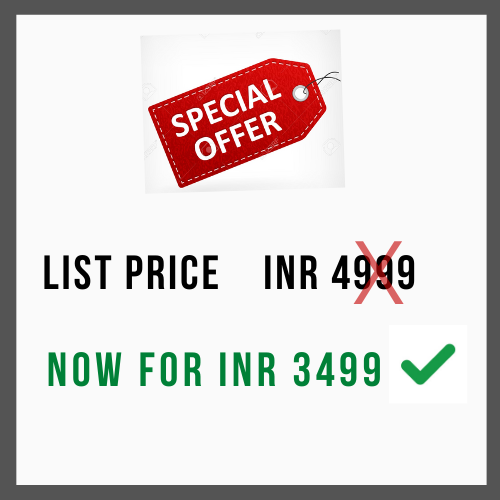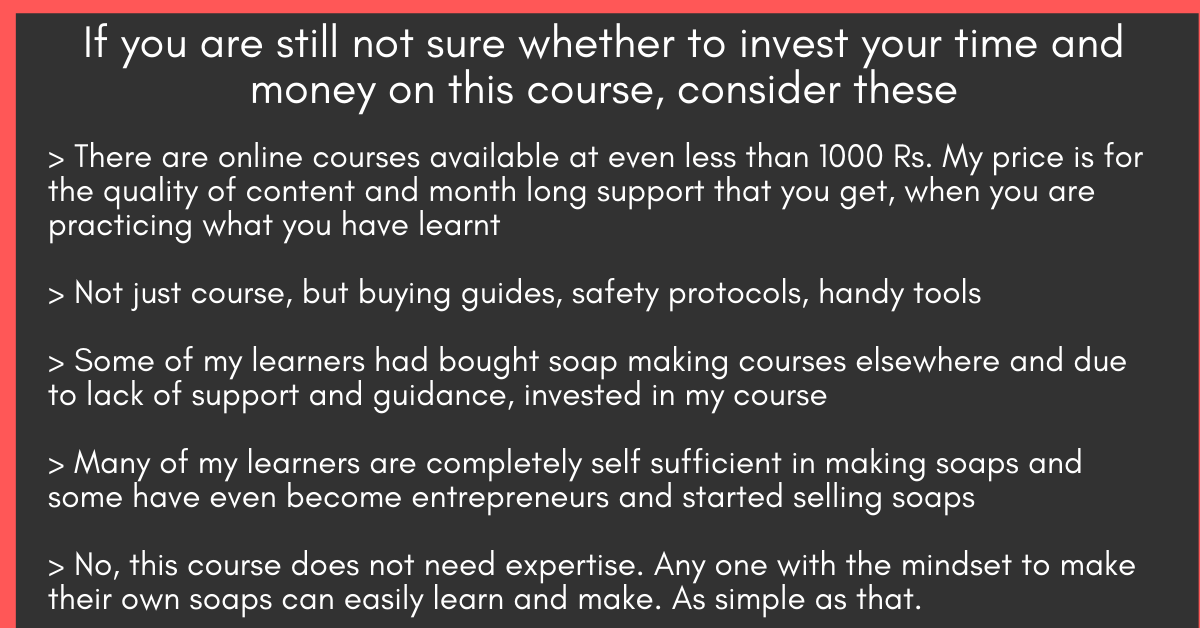 In case you need more details before you can decide, fill these details so that we can connect with you.
Word of Caution: Process involves use of caustic soda
I would like to mention that cold-process soap-making method involves usage of caustic soda, a chemical called Sodium Hydroxide, commonly called "Lye". This is the chemical that converts the oils to soap. All methods of "from scratch" soap making requires usage of Lye. Though lye is caustic in nature and needs safe handling, you can use it perfectly well by following all the safety protocols that I have included in the course. As I said, I have been making soaps myself, for a long time now and use the same precautions that I have explained in the course.
More from Kalpavriksha Farms:
1.  Would you like to buy hand-made soaps? 
.
 2. "Cook from scratch" – E-Course
Your guide to eliminate some staple everyday processed food from your grocery list.