Vallarai Keerai, commonly known as memory power greens, is a powerful medicinal herb that confers immense health benefits primarily for enhancing brain activity and nervous system functioning, besides helping with joint pain in arthritis, healing stomach ulcers, decreasing stress & anxiety and…being an overall skin and hair tonic too. Phew, this is a power-house greens and you need to include it in your diet every once in a while and give it to your children too!
This super-star is scientifically known as Centella asiatica, and it is locally called "Vallarai Keerai" in Tamil, "Mandukaparni" in Sanskrit and "Sarswati" in Hindi. The other segments of the plant, namely the stem, flowers and fruits are also used in numerous skin ailments like eczema, boosting memory, aiding in digestion, in Ayurveda practice in India as well as in traditional Chinese medicine. A flourishing herbal wonder, vallarai keerai is rich in Vitamin C and also a great source of the wide spectrum of B vitamins.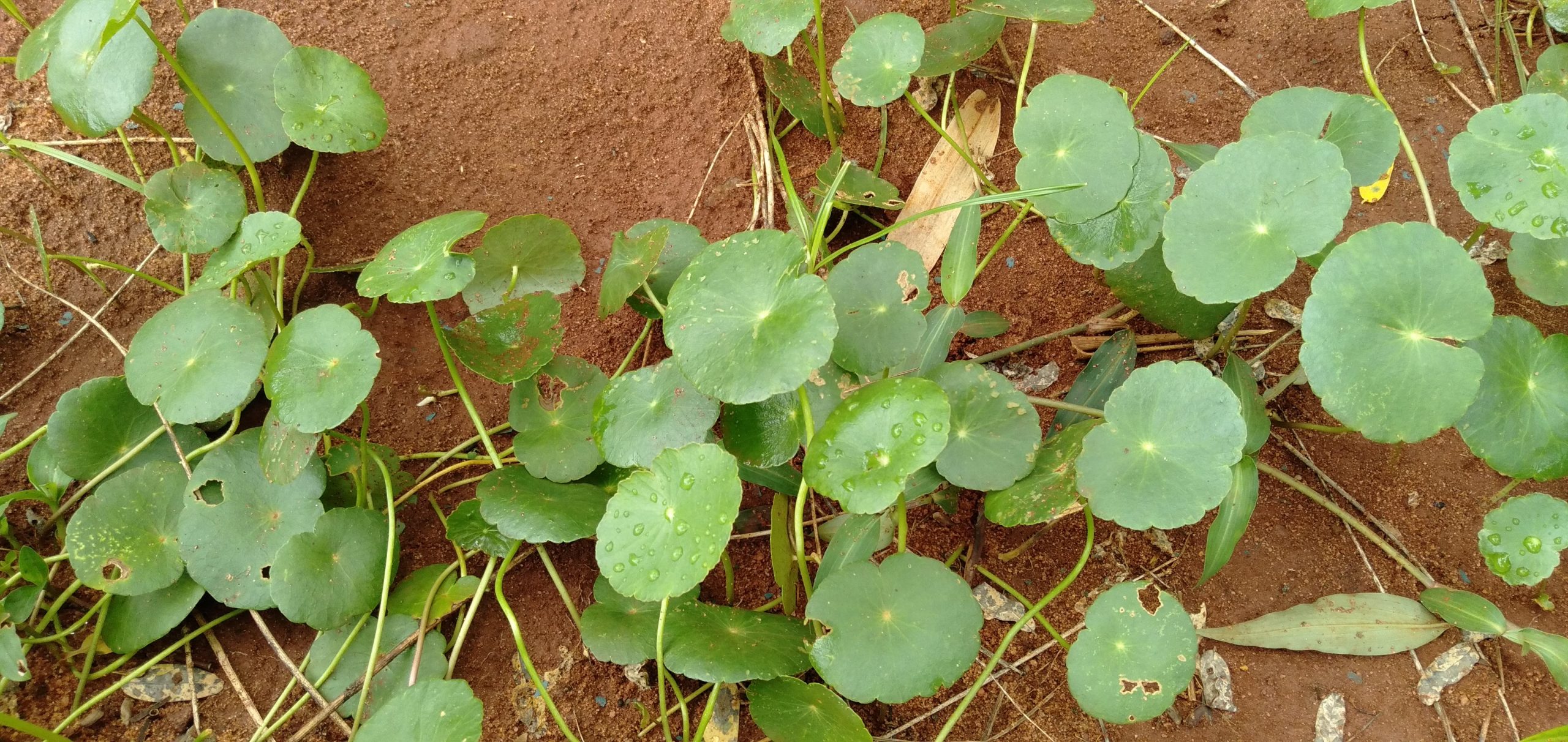 As you can see in the picture above that it spreads quite well. If you get a few stalks with roots attached to them, you can try to plant it in a pot or grow bag and it grows very easily. Minimal water and a semi-shady place is ideal for this nutritional keerai to propagate really well within a few weeks time. Let's check out some of their health benefits, shall we?
Health Benefits of Vallarai Keerai :
Improves Brain Functions
Boosts Immune System
Maintains Heart Health
Relaxes Muscle Cramps
Treats Constipation
Fortifies Bones
Reduces Skin Inflammation
Anti-Aging Benefits
Skin & Hair tonic
This is just a few benefits in a nut-shell but it has far-reaching benefits for various ailments and is a generally nutritious green to be had to improve our health and immunity.
DISCLAIMER – The benefits listed on my post is a mere collation of existing data available on the internet. I DO NOT endorse any of these claims. This post should NOT be used as medical advice or as alternative treatment for any ailment.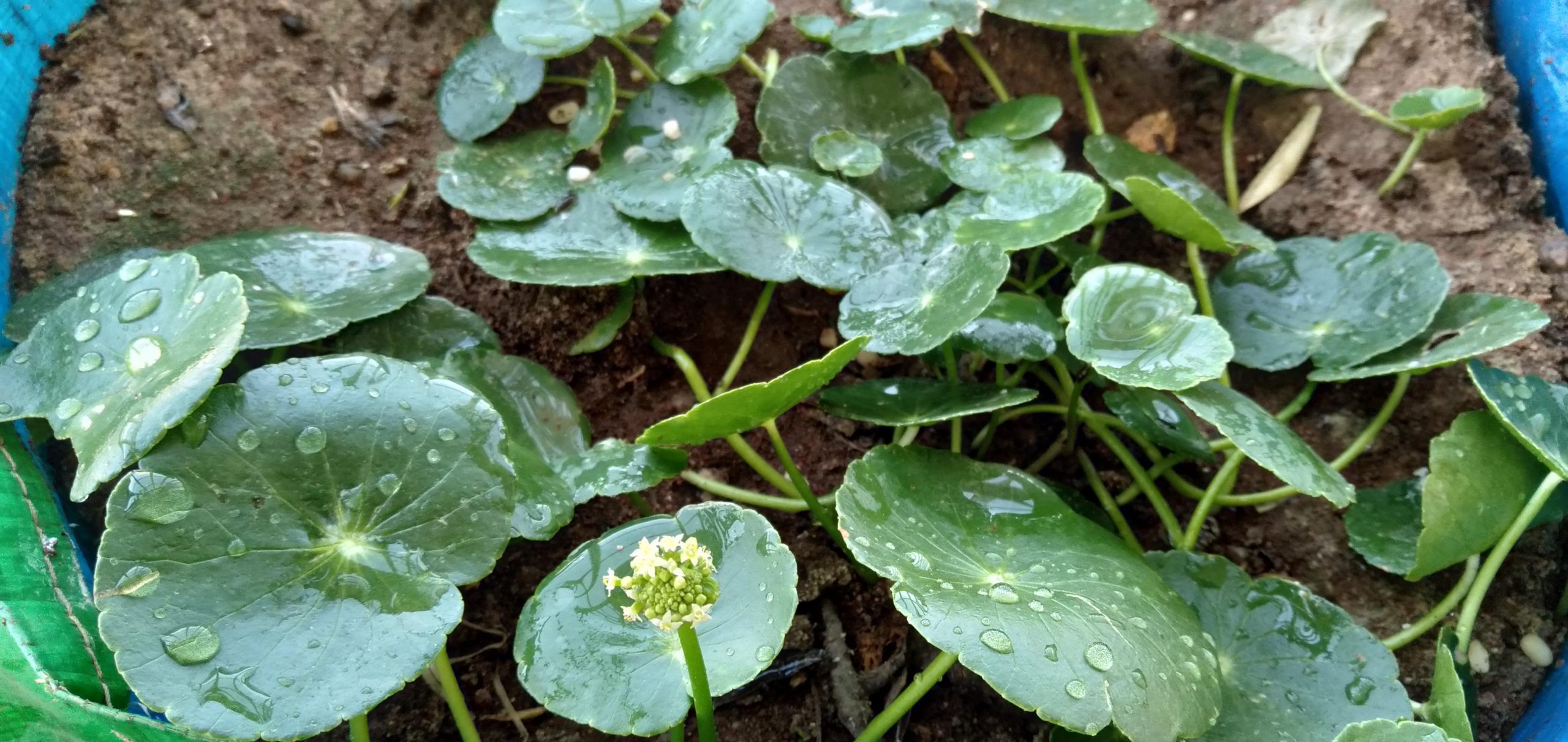 Vallarai Keerai Recipes:
You can reap immense benefits from this miraculous vallarai keerai herb in many different forms. I am presenting a few wholesome, delicious and mouth-watering recipes from my kitchen. These are popular preparations in Southern part of India.
This is a popular green leafy vegetable utilised extensively in conventional South Indian cooking. This green can be easily incorporated into dishes along with different combination of spices, to make either a dal or keerai kootu, thuvayal (a thick, coarse chutney variant), as well as salads, soups, idlis, dosas and sambhar too. There is a plethora of ways in which you can use it. I have used it in various forms. Here are some of my tried and tested recipes from me. Now you can make them too.
Vallarai Keerai thuvayal (Chutney)
Ingredients:
Vallarai keerai – 1 cup
Chana dal – 3 tbl sp
Small onions – 5-6
Tomato – 1 medium
Green chilli – 2
Whole peppercorn – ½ tsp
Coconut – 2 tbl spoon
Sesame oil – 1 tbl sp
Salt to taste
Method:
Wash the leaves.
In a pan, take a tsp of oil and fry the chana dal till it turns golden brown.
Add whole peppercorns, onion and chillies and fry till onion is translucent.
Add tomatoes and fry for a minute.
Lastly add Vallarai greens and saute it till it wilts.
Switch off the stove and cool the mixture.
Once cooled, add grated coconut and salt to taste and grind it to a fine paste.
Season it with mustard seeds and your thuvayal is ready!
This is a super tasty recipe. We, as a family loved it! You can eat it with rice or roti and even with idli or dosa. Try to prepare and consume it fresh for maximum taste and benefits.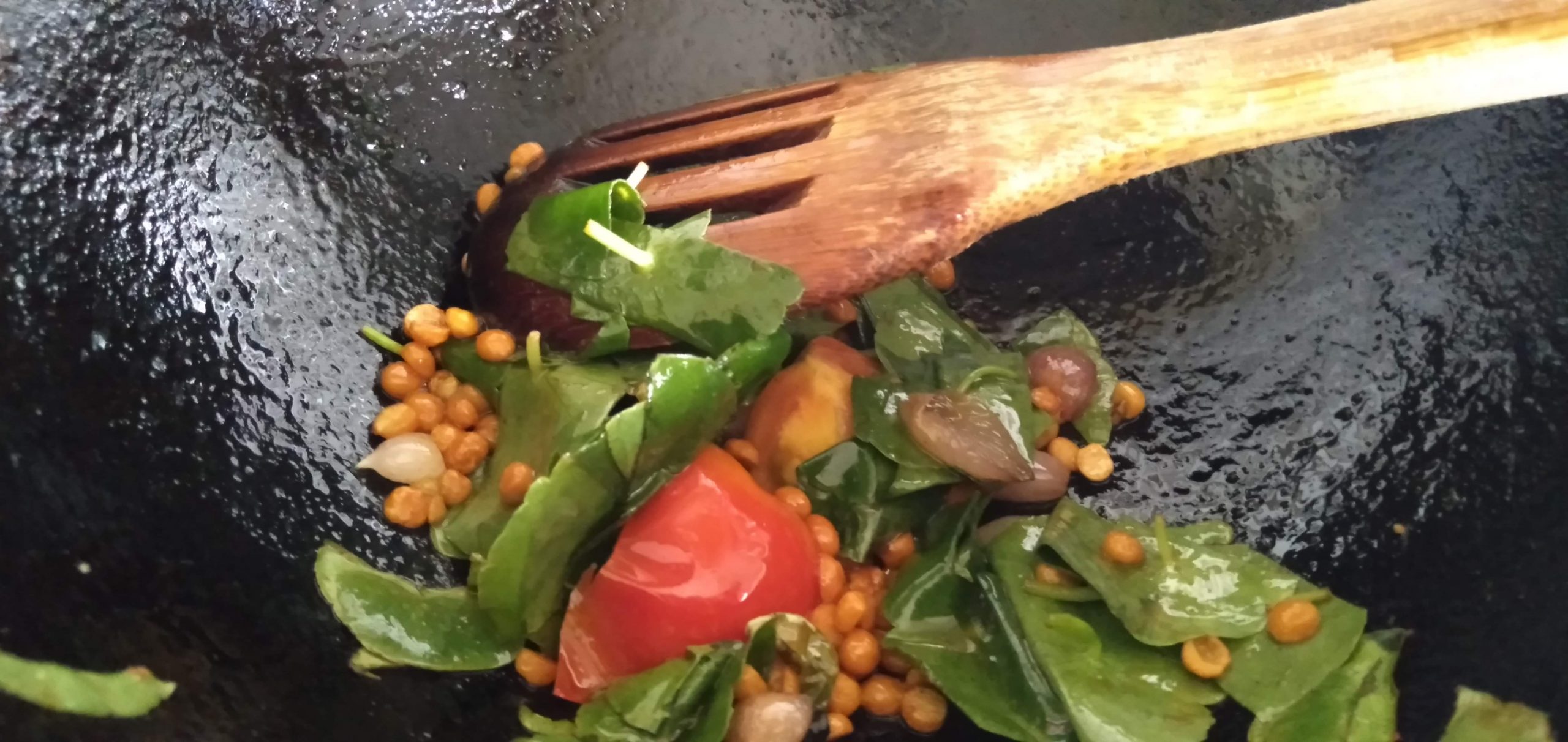 Vallarai Keerai Poriyal:
Ingredients:
1 bunch vallarai keerai, chopped
1 small onion, finely cut
¼ cup grated coconut
½ tsp turmeric powder
½ tsp sambar powder (chilli powder + dhaniya powder)
Salt, to taste
1 tsp sesame oil
1 medium-sized dry red chilli
1 tsp mustard seeds
Method:
Heat oil in a kadai, splutter mustard seeds and broken red chilli.
Add in onions and crushed garlic, sauté well for few minutes.
Add in the chopped vallarai keerai greens along with turmeric powder and cook until it begins to shrink in size and soften.
Garnish with freshly grated coconut and serve this nourishing vallarai keerai poriyal with rice or roti, for lunch or dinner.
This is another favourite of ours. We love it alongside dal-rice, sambar-rice or just about anything. It is very tasty!
Vallarai Keerai Soup:
Ingredients:
Vallarai keerai – ½ cup
Cumin powder – 1 tsp
Pepper powder – ½ tsp
Chilli powder – optional
Coriander leaves – for garnish
Salt to taste
Method:
Boil some fresh leaves of vallarai keerai in water, along with some red chilli powder & cumin powder.
Switch off stove, allow it to cool down a bit and blend it in a mixer to a smooth consistency.
Pour this warm soup in a bowl, season with salt and pepper.
Garnish with coriander leaves and drink it hot to relieve symptoms of constipation and rectify gut problems.
It is also a wonderful drink for rainy season and winter months.
Vallarai Keerai Juice:
Ingredients:
A bunch of fresh vallarai keerai leaves
Honey – 3 tsp
Crushed ice (optional)
Method:
Wash the vallarai keerai leaves thoroughly in water and chop them finely.
Thoroughly blend in a juicer, along with some water, to obtain a slightly thick liquid.
Add the honey, with some crushed ice, to obtain a homogenous fusion.
Relish the mildly sweetened and super-nutritious vallarai keerai juice chilled.
This is an Ultimate Tonic For Nourished Skin And Lustrous Hair. Works wonderfully as a detox tonic too. And is a refreshing drink for summer time!
Vallarai Keerai Dosa:
Ingredients:
Dosa batter – 3-4 cups
Vallarai keerai leaves – 3 cups
Chopped onion – one medium
Pepper powder – 1 tsp
Cumin (jeera) – 1 tsp
Peppercorns (whole) – 1 tsp
Water – just enough to make a paste
Salt – as required
Oil – for making dosa
Method:
Make a puree of vallarai keerai leaves in a blender and add it to the dosa batter.
Heat oil on low flame, transfer the chopped onions, sauté until they turn transparent.
Temper the peppercorn and cumin seeds, and then add the cooked onions to the batter.
Adjust for salt to obtain final dosa mix.
Heat oil in a dosa pan and spread the batter evenly in a circular shape. Cook until both sides turn mildly brown and slightly crisp.
Enjoy the nutritious vallarai keerai dosa with sambar, chutney or any of your favourite accompaniments.
This is the simplest and my go to recipe for any medicinal greens. So simple to incorporate into your dosa batter and instantly prepare it. Also a great hit with children who are fussy about taking their greens.
If you missed reading about the wonderful THALIK KEERAI or MUDAKATHAN KEERAI or MUSUMUSUKKKAI KEERAI click on these links to read them Now!
I hope you enjoyed reading the various benefits and the recipes for some very delicious ways to prepare these greens. I really hope you will try them. Don't forget to leave your comments below and let me know how you liked it! I would love to hear from you!
If you like what you read, don't forget to follow and subscribe, so you never miss a post from me!