I know what you are thinking! Using the discarded scraps to make a stock…yuck!
Blame it on our conditioning but we have been brought up to see it as waste and waste is meant to be thrown away. Some might even think it's a way to live frugally and why should I live this way when I can afford to throw the waste instead.
Let me tell you, I completely understand because I was that person too once. We learn or let's say, unlearn a lot of things. So, this has nothing to do with our social status and everything to do with managing our waste and living sustainably and responsibly. That's it. No hardcore agenda behind this. Okay. let's move on!
This is another wonderful way of using your scraps other than the obvious; Composting of course!
So, though traditionally vegetable stock is usually made with whole vegetables, I am showing you how to make use of your vegetable scraps to make a super flavourful stock. You don't have to always think about composting when it comes to vegetable waste, you know. This vegetable stock using scraps is a delicious alternative to using your kitchen waste effectively. Of course, you can use this recipe to make vegetable stock with whole vegetables too. All you have to do is, just replace scrapes with whole veggies!
So, Are you ready to make your meals more nutritious and extra delicious while you live responsibly…I say bring it on!
Important to note is I recommend this method if you are using organic vegetables because as you might have noticed this involves using the outer skin and scraps of vegetables.
You can collect your vegetable scraps and store it in the refrigerator if you don't have enough to start with. A week's scrap will be more than enough to make a good amount of stock.
You can add some of your sad looking vegetables too…
NOTE: Before you start, please remember to wash your vegetables thoroughly. Immerse them in water for some time and scrub them clean before you start peeling and chopping.
INGREDIENTS
3-4 cups vegetable scraps from carrots, onion, beans, coriander stalks, any other vegetable scrap or those sad looking veggies
2-3 cloves garlic crushed
10-12 whole peppers
2 bay leaves
Rock salt (or regular salt) to taste
Optional –
You can add a pinch of turmeric powder is you like.
INSTRUCTIONS
Place the vegetable scraps in a large vessel or kadai.  Fill it with water just above the scraps and add crushed garlic cloves (skins and all), whole pepper and bay leaves.
Cover and bring to a boil.  Reduce heat to a simmer and cook for 25-30 minutes.
Allow it to cool.
Use a large sieve to pour the contents through it and collect the clear liquid in another bowl. Press on the solids with a ladle to squeeze out any extra liquid. You can use the discards for compost.
Use it immediately or refrigerate it to use it in about a week's time. You can freeze it upto three months too.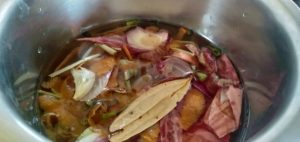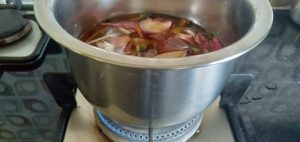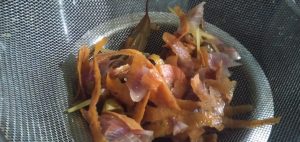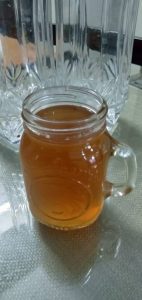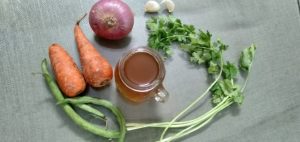 PIC COURTESY – AUTHOR'S OWN
There is no need to follow any rules but if you need some specific tips on vegetables to avoid while making stock, then here are just a few you might want to keep in mind.
Vegetables to Avoid – Starchy vegetables like potatoes and turnips will make for a gummy, cloudy vegetable stock. And beets are known to overpower their aromatic counterparts and turn the colour of the stock. And of course not the bittergourds…
Don't Miss – If possible make sure you add a bunch of coriander stems to the stock and garlic to make the stock more flavourful
But please note that I don't follow any particular rules myself. I do this to make sure I use my vegetable waste effectively. So, I just use whatever I have on hand.
Also note that this is the most basic recipe to make stock. You can always make it much more richer and grander in hundred different ways. But this recipe is intended to use our vegetable waste and at the same time not make this a huge chore for you.
With kids around wanting your attention and lots of work to do, this has got to be easy, am I right?  If you are anything like me, then I say, give me the simple and the easy any day please…Who has got time for complicated recipes? Not me..
You can use this flavourful stock in gravies, soups, sauces and in just about anything you wish. Not only does this add flavor to your dish, it also adds so much more nutritional value of it. You can sneak in lots of nutrition from vegetables that your kids may not like eating by adding bits of those vegetables in the stock as well.
So there you have it!
Let me know how it was!
PS: For my non-vegetarian friends, you can add meat scraps and bones to this stock as well to make your own chicken stock! It's all up to your imagination after this point. Go ahead and try it your way! Whatever you decide to do, don't forget to tell this friend of yours about your escapades…
Waiting to hear from you…
Cheers