GROWING HEIRLOOM RED RUBY CORN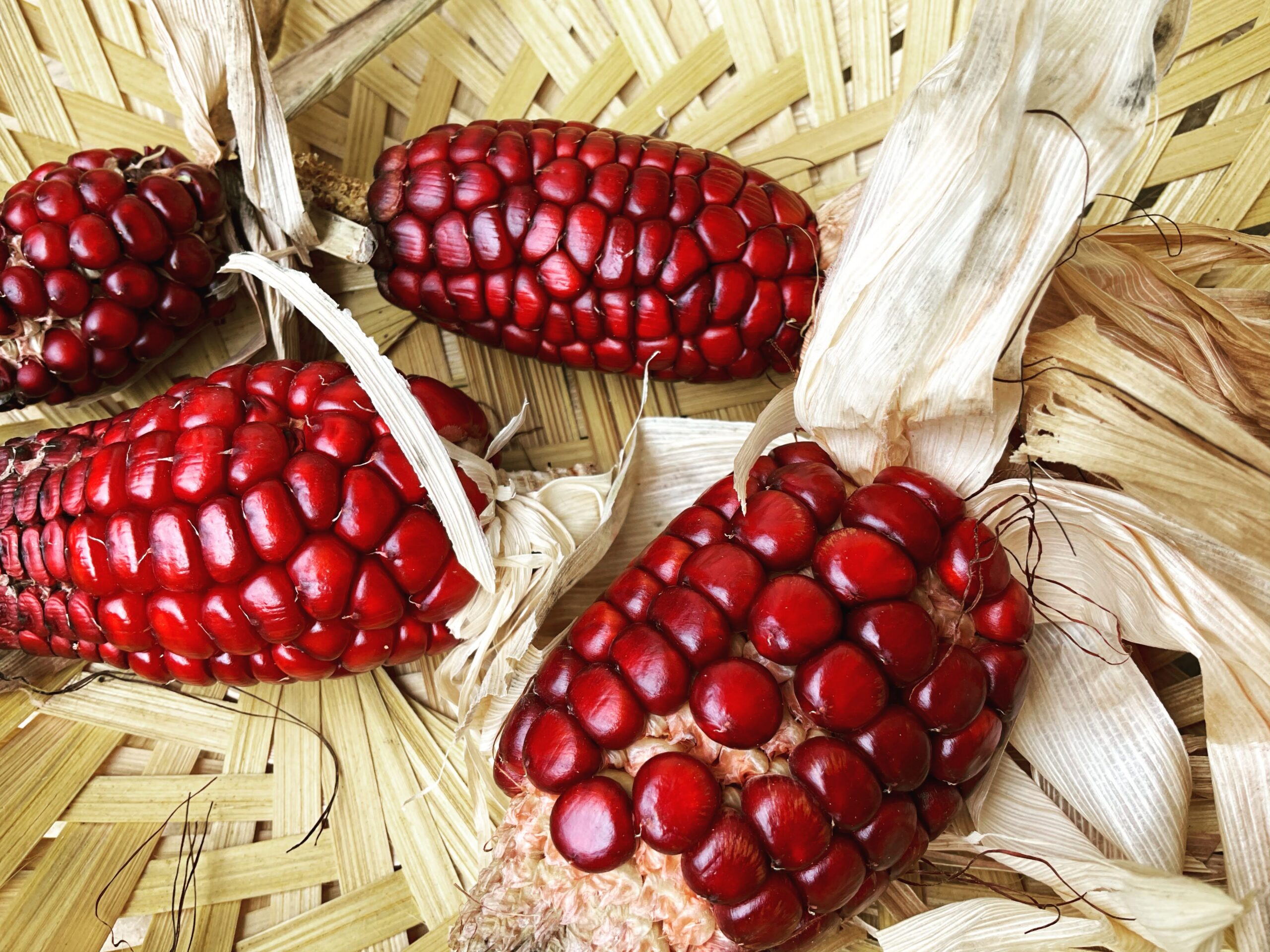 Heirloom varieties are under threat of extinction all around the world. Therefore the more we grow them the better chances for these varieties to survive the hybrid invasion. I try and grow as many rare native varieties of vegetables as possible on my small half-acre farm. Check out my Clove beans (Mookuthi Avarai)
This season I tried growing these Red Maize or corn and finally succeeded. So, I thought I will share my experience with you in growing them. When I posted the picture of my Ruby Red Corn on my social media page, it was an instant hit. My feed was buzzing all day with a lot of interest and lots of conversation around it. I decided to write a detailed blog post about it and so here goes.
Corn is a wind-pollinated crop, so it should be planted in blocks, rather than in single rows. It's a warm weather crop so plant them in summer time and early autumn before cooler temperatures set in.
A WORD ABOUT HEIRLOOM CORN VARIETIES: Red corn variety that I grew has slightly crunchier kernels and an earthier flavor.
WHEN TO PLANT CORN
It requires a long growing period of warm weather. So, plant it during summer months and autumn.
Only in warmer climate the seed germination rate is good.
A couple weeks after planting your first round of corn, plant another set of crop for succession planting and for consequent harvests.
PREPARING THE PLANTING SITE
Corn plants are picky about their soil. I have failed a couple of times and finally succeeded when I planted it on my raised beds.
That means, it needs a good fertile soil. So prepare your land with aged manure weeks before you start sowing seeds.
The soil should be well-draining, but must be able to hold some moisture. Corn tends to use a lot of water.
Pollination is an important factor to consider. For successful pollination, plan your corn plantation well. Instead of planting two long rows of corn, plant "blocks" of corn at least four rows deep. This ensures that the corn, which is a wind-pollinated crop, has a greater chance of producing viable ears.
THINGS TO REMEMBER WHILE PLANTING CORN
Starting corn seeds indoors is not recommended. It's best to start them directly in the garden so that their roots aren't disturbed due to transplanting. Speaking from experience here. I tried a couple of times and it didn't work.
Plant seeds 1.5 to 2 inches deep and about 6 inches apart.
Rows must be ideally spaced 2 ft apart.
You may choose to fertilize at planting time; corn is meant to grow rapidly. If you are confident that the soil fertility is good, you can skip this step.
Water well at planting time.
CARING FOR CORN PLANTS:
Don't crowd the plants. Make sure they are well spaced out.
During weeding, be careful not to damage the roots.
During summer months, be sure to keep corn well-watered due to its shallow roots.
Mulching is a good way to help reduce evaporation and keep the plants well hydrated.
HOW TO HARVEST CORN
Harvest when golden tassels begin to turn brown and cobs start to swell. Kernels should be fully matured.
Pull ears downward and twist to take off stalk.
INTERESTING FACTS ABOUT CORN:
Baby corn is produced from regular corn plants that are harvested early, while the ears are immature
Corn is one of the "THREE SISTERS" that are ideally paired together for perfect COMPANION PLANTING. I paired it with my beans and pumpkin. The famous three sisters are Corn + Bean + Squash.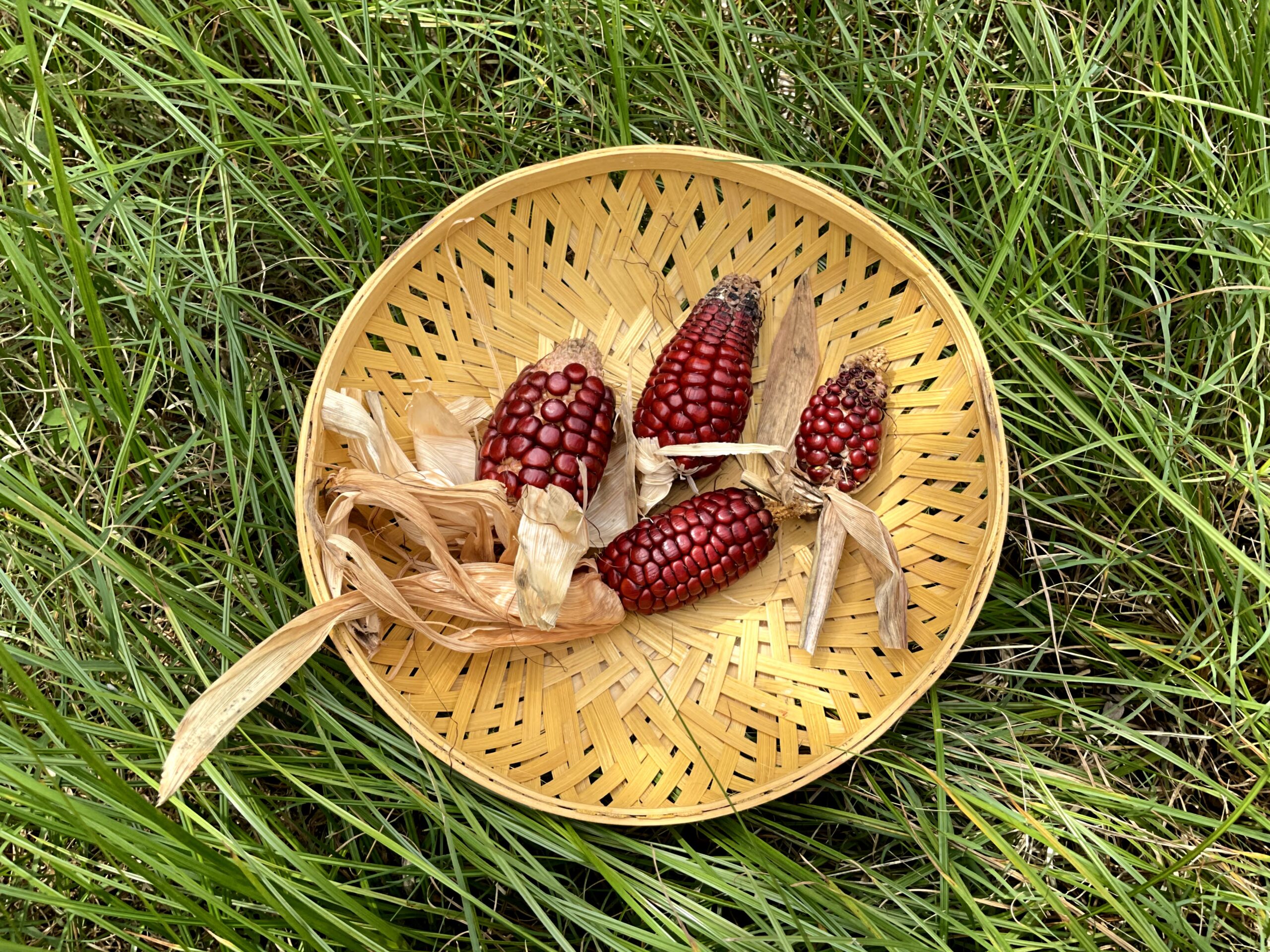 LEARN FROM MY MISTAKE 🙂
I let my corns over-mature and the kernels turned a bit hardy. So be careful not to let it sit longer than usual and err on the side of early harvest than late. I tried roasting them but it was too hard to eat it that way so I decided to cook them. I had to pressure cook for a longer time to make them softer to consume. On second thought, I should have ground them and made corn meal out of them. Well, you live and learn!
So, here's my learning and take-away from growing heirloom corn. Hope it was informative and that I have piqued your interest enough for you to try growing and consuming heirloom varieties. Do share your experiences in the comments below so I can learn from you. Thank you for stopping by and don't forget to check out other heirloom varieties that I grow on my farm here.
DO FOLLOW MY BLOG FOR MORE SUCH INTERESTING POSTS AND CHECK OUT MY GARDENING WORKSHOP IF YOU ARE INTERESTED IN ORGANIC GARDENING