This year somehow wasn't that great farm-wise. During the most crucial time of the season, we were head-over-heels busy with our daughter's admissions. Later we realized that the soil needed more fortification than we initially thought was required. So, a major part of the year was spent trying to make the soil fertile than anything else. And just when things were starting to look up and plants were flowering and fruiting, the rains lashed out.
My farm has predominantly clayey soil and that added to the problem of water stagnation. This led us to losing two fully grown papaya trees laden with fruits, four newly planted fruit tree saplings and we also lost a 5 ft tall Jack fruit tree.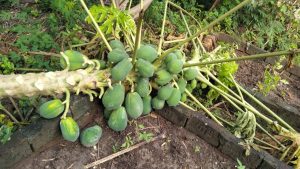 Fallen papaya tree – Pic courtesy – Author's own
It's heart-breaking, I tell you!
It isn't easy procuring organic tree saplings, transporting them, planting them, and taking care to ensure they take root and develop well and then finally end up losing them.
But there was some good news too. I was able to successfully grow and harvest a lot more new vegetables and also some very rare, indigenous and native variety beans. Some of these bean varieties are almost extinct and I am quite sure you might have never heard about them, leave alone tasted them. When I shared about the harvest of these rare beans I heard back from my friends that not just our generation, but even our parents and grandparent generations haven't seen them.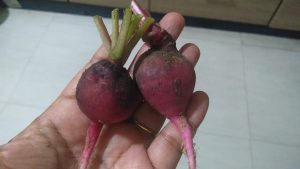 Red Radish – A new entrant in my garden – Pic courtesy – Author's own
Some of the rare beans I grew are Clove Bean (called Mookuthi Avarai in Tamil), Sword Bean (Thambatai Avarai) and Winged Bean (Siragu Avarai). This is something that gave me immense joy and satisfaction.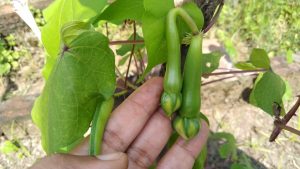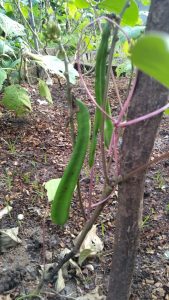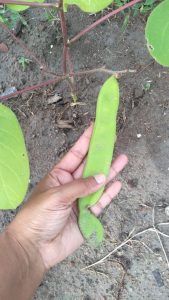 Sword Beans – Pic Courtesy – Author's own
It is so important to grow and popularize rare crop varieties so they are back in circulation and we don't lose these indigenous varieties completely. The hybrid invasion has wreaked havoc on our food system and the industry giants monopolizing the seed market has caused irrevocable damage already in terms of thousands of native varieties going extinct. Let's start by saying NO to Hybrids & GMOs.
Well, that topic is for another day, but for now let me tell you something; as a gardener or a farmer, you are in for a lot of heartbreaks but there are also many-many euphoric moments. It is a grounding activity that teaches you – patience, perseverance and hard work. All the things that keep you in good stead…and of course, good physical, mental and emotional space.
Wishing you all of these and more, this new year!
If you like what you read, you can subscribe to my blogs by clicking HERE and to my FREE Newsletter by clicking HERE